EFCC insists Sylva owns 48 houses in Abuja despite denials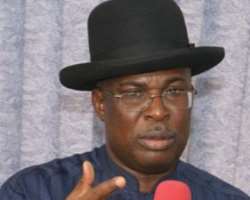 A former Governor of Bayelsa State, Chief Timipre Sylva, and the Economic and Financial Crimes Commission have disagreed over the existence of 48 houses allegedly traced to the ex-governor.
While Sylva claims to own only three houses in Abuja, the EFCC spokesman, Mr. Wilson Uwujaren, insists that the ex-governor owns the 48 houses and that the commission had begun fresh moves to re-arraign Sylva before the Court of Appeal.
The PUNCH had reported on Monday that the EFCC had traced and sealed off 48 properties allegedly owned by Sylva.
The EFCC had subsequently arraigned the ex-governor for an alleged N19bn fraud and slammed 50 charges against him.Three Federal High Courts had, however, struck out the case.
The PUNCH had reported that following Sylva's victory, the ex-governor had reclaimed ownership of the properties, some of which had been rented out.
In a statement on Monday, Sylva denied ownership of the houses, insisting that he owned only three houses in Abuja.
Sylva, in a statement issued on Monday evening by his Media Adviser, Mr. Doifie Buokoribo, obtained by THE PUNCH in Abuja, described the report as "strange, speculative and malicious; as he does not own 48 buildings in Abuja or anywhere in the world."
According to him, neither he nor the courts had at any time confirmed his ownership of such property. The former governor has threatened legal action over the report.
The statement reads, "We have read a report in a national newspaper, which was reproduced by a few online publications and in the social media, claiming that Chief Timipre Sylva had "retrieved 48 of his property which the EFCC seized during the administration of Goodluck Jonathan.
"We view this report with disgust, given its unconcealed speculation and vindictiveness regarding such a sensitive matter.
"For the avoidance of doubt, Sylva does not own 48 buildings in Abuja or anywhere in the world. So, the issue of reclaiming 48 houses does not arise.
"He has only three houses in Abuja, which he built before he became the governor of Bayelsa State. This point has been made several times before, and neither EFCC nor those who had used EFCC as a tool of persecution against Sylva during the Goodluck Jonathan administration have contradicted this fact.
"EFCC had taken their allegations of property ownership against Sylva to several courts without establishing anything against the former governor during the Jonathan era. Beyond the commission's routine media prosecution, no court of law has found Sylva guilty of any crime.
"Indeed, in the course of the trials at the Federal High Court, Abuja, owners of some of the properties wrongfully attributed to him joined to claim their houses. The court ruled on the matter of the said 48 properties since 2013. Why is it now a subject of media attention? Clearly, this is a sponsored publication."
However, the spokesman for the EFCC, Mr. Wilson Uwujaren, confirmed the existence of the houses to our correspondent on the telephone.
He said the anti-graft agency had filed an appeal at the Appellate Court demanding that Sylva should not have access to the properties.
Uwujaren said, "I have just spoken to Mr. Rotimi Jacobs (SAN) who is in charge of the case. He confirmed to me that the EFCC has begun moves to appeal the case, which means that he (Sylva) should have no access to the houses."
Some of the houses, according to Uwujaren, include: a mansion at 3, River Niger Street, Plot 3192 Cadastral Zone AO, Maitama District, Abuja; nine units (comprising six one-bedroom and three two-bedroom apartments) at 8, Sefadu Street, Wuse, Zone 2, Plot 262 Cadastral Zone AO2, Wuse, Abuja, and two duplexes at 5, Oguta Street, Plot 906 Cadastral Zone, Wuse II, Abuja.
Others include a duplex on Plot 1271 Nike Street, Cadastral Zone AO5, Maitama District, Abuja; a duplex at Phase 1 Unit No. 1 (Villa 1) Palm Springs Gold Estate, Cachez Turkey Projects Limited, Mpape, Abuja; 10 units of one-room apartments at 8 Mistrata Street, Plot 232 Cadastral Zone, Wuse II, Abuja; five units duplexes on Plot No 1070 Dakibiyu District, Cadastral Zone B10, Abuja; 16 units service apartments at Plot 1181 Thaba Tseka Crescent, off IBB Way, Wuse II, Abuja, and 3 units of three-bedroom flats at No. 1 Mubi Close, Plot 766 Cadastral Zone A01, Garki, Abuja.
Source: PUNCH