BRITISH AIRWAYS STAFF TO MEET UNION OVER STRIKE BALLOT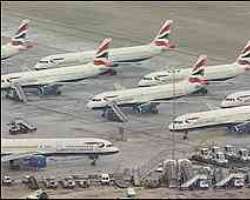 British Airways cabin crew are expected to discuss calling a ballot on fresh strikes after rejecting a new offer from the company on pay and conditions.
Members of union Unite voted by 81% – on a turnout of 71% – to reject BA's proposals, in a year-long row.
British Airway said the offer had been "very fair" and it was disappointed.
Talks between staff representatives and Unite come as airport operator BAA releases its figures for April, when flights were hit by the ash ban.
Disruption to flights caused by ash from Icelandic volcano Eyjafjallajokull cost BA £180m.
In March cabin crew strikes at BA led to widespread disruption, which the airline said cost it £45m.
Unite would have to give a week's notice of any new planned strikes.
Representatives of the cabin crew are meeting the union's joint general secretaries, Derek Simpson and Tony Woodley, to discuss their next move.
When the result of the offer ballot was announced last week Unite said: "BA management should take note of their own employees' strong rejection of their offer and immediately address the outstanding concerns."
The union had "strongly recommended" its members reject the offer.
In a letter to cabin crew Mr Woodley had said that BA was treating staff like second-class citizens who had been "branded" for the March strike.
He said the union was urging rejection of the new offer because BA had failed to restore travel perks taken away from those who went on strike, and disciplinary action was being taken against more than 50 union members.
BA said: "The majority of our crew came to work during the previous strikes and demonstrated their firm commitment to our customers, despite their union's callous disregard for the travelling public.
"Unlike other businesses and airlines, we have avoided compulsory redundancies. Cabin crew face no pay cut or reduction in terms and conditions – and remain the best rewarded in the UK airline industry."