Ukah Keeps Silent On Okowa`s Second Term Bid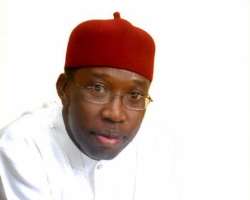 The political cloud is not clear whether Governor Arthur Ifeanyi Okowa shall seek second term come 2019. This is at least what could be gleaned from the reactions of the Information Commissioner Mr Patrick Ukah in a reaction to a reporter`s question about the pronouncements of the speaker of the Delta State House of Assembly, Honourable Monday Igbuya that there was no vacancy in Government, House Asaba.
Briefing reporters in Asaba on Wednesday (October 28, 2016) Ukah maintained that he would not be drawn to comment on the political comments of the speaker saying `I cannot comment on the matter. I am not aware of what you are saying. I am not aware of the sentiment of the speaker as regards 2019 governorship ambitions of Okowa. I do not want to caution the speaker and it is only the governor that can speak on that matter`.
Ukah said that the governor was more preoccupied with spreading democratic dividends to the people of the state through the SMART agenda and that 2019 shall take care of itself.
It is a common feature that the speaker of the Delta State House of Assembly, Honourable Monday Igbuya has taken it as an article of faith to always talk about the governorship ambition of the governor thereby giving the impression of closing the door against other aspirants of the PDP family.
This reporter checks revealed that some members of the party are not happy with the position of the speaker further fuelling the rumour that the speaker was ready to do the bidding of the governor to retain his position.
Earlier while briefing the press on the activities of the government after the weekly executive meeting, the Information Commissioner told Deltans of the new logo and that the catchphrase `finger of God` has been dropped for the `big heart of the nation`.
He also disclosed that a new Delta State anthem has been approved and called on Deltans to learn how to sing it like the national anthem.
On the dirt that has taken over the streets of Asaba, the Commissioner said that the Ministry of Environment and the Waste Management Board were working round the clock to restore Asaba to its former glory of cleanliness.
Residents of the state capital are worried that unless something is done urgently about the heaps of dirty that have become a feature of Asaba, an epidemic of epic proportion is waiting to happen.
Disclaimer:

"The views/contents expressed in this article are the sole responsibility of the author(s) and do not necessarily reflect those of The Nigerian Voice. The Nigerian Voice will not be responsible or liable for any inaccurate or incorrect statements contained in this article."