Revealed: Meet the richest female Nollywood stars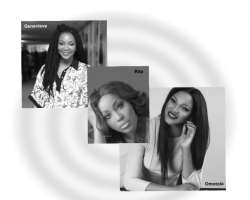 GENEVIEVE NNAJI
An icon in her own world, a screen goddess and the queen of Nollywood, many describe her as an industry of her own. The Best AMAA Actress in a Leading Role in 2005, Genevieve Nnaji is arguably the most popular actress in the Nigerian make-believe movie industry. She has over 10,000 registered fans on her website genevievennaji.ning.com and receives about 3,000 letters from fans all over the world every week. In September 2009, Oprah Winfrey named her one of the 100 most famous people in the world. She is also by far the highest paid actress per movie and the first to earn a million naira in a single movie. By 2009 she raised the bar and she was paid $45,000 in movie IJE produced by Chineze Anyaene. A model and also a singer, in 2004 she became the Face of Lux and subsequently was involved with a beverage drink and detergent.
She would release her debut album, Longolongo in Ghana, a move that raked in cash from her associations in the political circles of West Africa.
Omotola Jalade Ekeinde
She is the princess of Nollywood, bold and a beauty to behold. Many believe she shares the same status with Genevieve Nnaji and together they are the two biggest actresses in Nollywood. Omotola takes it easy with her life and also has great passim for cars. She drives more expensive cars than any actress in Nollywood and her garage is estimated to be worth millions. The mother, model and musician has recently stepped up her game in the music industry.
Her first album Gba was her first introduction to the music industry but her sophomore album Me, Myself & Eyes has defined her as truly talented. The production and promotion of her album cost her a whopping N13 million.
KATE HENSHAW NUTTAL
Humble and hardworking, her income suffered a setback lately following the termination of the Glo Ambassadorial deal, but none the less, she is what one may call the silent millionaire. She became one of the actresses to try out other ventures. Spared by the tabloids' bashing, the African Movie Academy 2008 Best Actress winner has graced the screen of Nigerian television like an amazon. The screen star who also has a daughter, Gabrielle, is a business woman to the core. Although she often appears classy, she spends wisely on what she wears and only travels abroad for business rather than pleasure.
Patience Ozokwor
The Enugu star is nicknamed ''Mama G' in Nollywood. She got into acting, the career that brought her money and fame because she was sacked as a broadcaster. The sack wrecked her and her household, as they battled with the life of an ailing husband. But opportunity called when she met Chika Okpala, aka Zebrudaya, who offered her a chance to appear in a commercial he was shooting then. That gave her the lee way into Nollywood, where she is one of the best-paid actresses.
Also a musician, she has been consistent in the industry and her roles have been applauded. She is very diverse in her investments but also has several landed properties. She lives at Enugu GRA, a mansion she completed two years ago and owns some businesses in the metropolis. Mama G shocked people when she handed out cars as gifts to her daughters getting married.
INI EDO
She has remained very consistent and has proved time and time again that she was born to be a star. Ini believes in landed and housing properties and has invested in this area more than any other Nollywood sister. She has five buildings, one in Abuja, to her credit and another one to be completed by the end of the year. Most of the buildings are being rented to tenants. The actress, model and producer presently has nine landed properties which she either plans to build upon, fence for keeps or lease.
She has produced a movie Memories of The Heart. She also stunned the world when she moved into a brand new house in Lekki after her marriage crumbled.
RITA DOMINIC
In 2004 she won the City Peoples Award as the Most Outstanding Actress. The once Face of Nokia and the Glo ambassador is also a business woman. Rita has done well both as an actress and a model. Her assets include landed properties and two homes estimated to be worth over N40 million. Between 2008 and 2009, she earned N16million (most of it part of the money coming from Nokia and Glo.).
Mercy Johnson
Definitely her husband, Prince Odiniaose Osagie, must be proud that his wife is worth some millions of naira. At the moment she remains the most controversial actress in Nollywood. The movie, The Maid, was not enough to woo Nollywood fans to her, but 19 Macaulay Street revealed her to be the Nollywood sensation. Since then she has never looked back. Many argue that the tens of movie scripts that come her way are due to the fact that she's is not a Glo ambassador, but the actresses does not see it that way.
By 2008 Mercy Johnson had appeared in fifteen movies and earned N11.4 million from movies alone. The following year, she earned N13 million and she featured in the Emen Isong hit movie, Guilty Pleasures. She is also an investor in properties and she is about to complete two houses at the moment. - The Mirror.