Rooney's accidental assist helps Man United win first Europa League game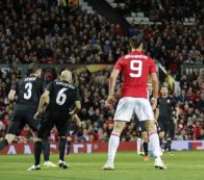 Whether he meant to awkwardly deflect the ball – or not – to Zlatan Ibrahimovic for the winning goal doesn't matter right now. All that matters for one Wayne Mark Rooney is that he was on the field and found himself in the right place at the right time to create something positive for Manchester United.
OK, his attempted side-foot volley in the 69th minute was somewhat comical. But Rooney's un-Midas-like touch did fortuitously find the head of Ibrahimovic for the decisive goal in United's 1-0 Europa League victory over visiting Zorya Luhansk on Thursday.
And manager Jose Mourinho will take any kind of contribution from Rooney, his demoted captain, even if it's the accidental assist variety.
A string of listless performances finally led to Rooney being dropped from Man United's starting lineup last weekend, and the result was not flattering for the 30-year-old. The Red Devils romped to a 4-1 win over defending Premier League champion Leicester City, with Juan Mata flourishing as the primary playmaker and Paul Pogba finally getting to be, well, Paul Pogba, the most expensive soccer player on the planet.
Rooney eventually came on as a substitute against Leicester with the game already decided. This sad state of Rooney continued on Thursday as he took a seat on the bench for the second straight match.
But the circumstances were different when Mourinho brought Rooney on for Jesse Lingard in the 67th minute. With the game still scoreless, Rooney was positioned up top with Ibrahimovic to make something happen and hopefully produce the game-winner. It wasn't pretty, but Rooney – somehow – succeeded.
Twitter, including Man United's official account, had fun with the play. Even Rooney himself.
As the old saying goes, sometimes it is better to be lucky than good. Because when you're Wayne Rooney, aging superstar striker with the rapidly declining skills, you'll take whatever good fortune you can get in a season that could likely be his last at Old Trafford.
Photo: Wayne Rooney's bad mis-hit led to the winning goal. (Reuters)