Aregbesola congratulates APC over Edo poll; says PDP remains rejected by Nigerians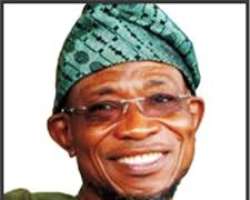 Governor Rauf Aregbesola of Osun Wednesday evening congratulated the All Progressives Congress over the outcome of the governorship election in Edo State
In a message of goodwill to the winner of the poll Mr. Godwin Obaseki and the APC, Aregbesola said the final result of the election was not surprising given Nigerians' conviction that the APC has offered quality and selfless leadership at all strata where it is in control.
"Victory was not unexpected for the only party that has proved beyond doubt that selfless service to the people is weapon to kill and bury political parties that promote selfishness, greed, self aggrandizement and elevates kleptocracy as a state policy.
"As bad as the PDP brought Nigeria, it is evident the rescue mission is on course no matter what the naysayers say.
"Nigerians have rejected PDP and that is final," he said.
Aregbesola while welcoming Obaseki to the fold, said he must be determined to ensure fulfillment of his promised programmes for the people.
"This is the hallmark of our party and we therefore congratulate our people in Edo for voting for continuity. Good governance, we are confident, will only continue.