Inside Dogara's House of Discord!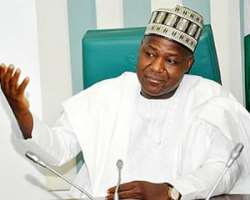 As you read this, chances are a Honourable Yakubu 'Jack'' Dogara and his three-man demolition squad in the House of representatives are still having a good guffaw at the case of the listless Kano thief who got 30 months in the slammer for stealing a pair of bathroom rubber slippers. There are chances, again, that the Dogara-led demolition squad and their pliable jesting colleagues in the House are still backslapping after ridding themselves of the irritant their colleague, Honourable Abdulmumuni Jibrin, has constituted himself into!
Meanwhile, there is no stopping Nigerians who continue to sneer as big time criminals walk free while huge resources are expended to expand holding places in prisons for petty thieves. It is only a community of jesters that will get unduly excited in calling for the head of a colleague for whistle blowing. That is exactly what the House jesters did when, bereft of any honour, they suspended Mr. Jibrin for one legislative year. Jibrin's offence, according to the jesters, was to have brought odium on the House through dragging the names of his colleagues in the mud. No reference whatsoever to Jibrin's accusations.
A little over a year ago, the same Jibrin headed a conspiracy that momentarily threatened the rainbow coalition put together to sack the fumbling Goodluck Jonathan crowd. This time, Jibrin has been the target of a conspiracy orchestrated by the main beneficiary of his conspiracy.As he watched the vultures descend on him Wednesday, September 28, blurred images of the elaborate anti-party conspiracy he led last year must have raced through Jibrin's mind. Last year, Jibrin did not stop at table-banging in his bid to get Dogara installed as speaker; in fact, he employed strong and uncouth language and, oftentimes resorted to dishonourable tactics bordering on veiled blackmail to force the hand of the leadership of his party.
For obvious reasons, APC leaders have been understandably cold towards Dogara but, even if in private they believe Jibrin has an iron-cast case against the speaker and his fellow plunderers, the party leaders are not about to warmly embrace him either in view of the needless anguish they went through in his hands last year. Jibrin will have to blow his whistle louder for APC leaders to notice.
Honestly, so many terrible things are wrong with Nigeria's House of Representatives, a legislature that is gradually taking on the toga of a House of Discord. The House stinks to the point of rankling and unnerving decent and level-headed members who have been forced to co-habit with virtual bandits. We must feel for honest and sincere lawmakers in the House and, there are many of them out there, who feel genuinely frustrated in their quest to bring some sanity to the House. They swim against the tide with the present leadership of the House in place.
Seen from a safe distance, the initial impression Nigerians got was that Mr. Dogara was the best thing to happen in the history of the House. The guy literally bowled everyone over and, at a point, Nigerians even tried to learn to live with another despicable conspirator in high place. In fact, it has been suggested that his estranged buddy and accuser, Jibrin, himself an erudite gentleman, must have been fooled by Dogara's Janus-faced personality to the point of conspiring to get him elected as speaker. Few saw beyond those cold, rat-like, constantly-darting pair of eyes Dogara spots. And, boy! Did Dogara play the rat!
Honestly, Dogara's duplicity could have fooled just about any one and every one! So far, the speaker and the House jesters have accused Mr. Jibrin of discrediting his colleagues by dragging their names in the mud! What credibility criminals, anyway? Where else, outside the mud, is a criminal's name to be dragged? The criminals in our midst, especially those who cannot keep their hands away from the till, must still be living in the past if they thought it is only a court than can pronounce them guilty. Even before he went to court, Jibrin had literally convinced Nigerians that so much pilfering is going on in the House. If they are clean, Dogara and friends should take Jibrin to court for calling them thieves.
It beats one hollow to imagine that, just before his careless padding-is- not-a-crime thesis, this same Dogara went pontifical in a blistering attack on corruption and corrupt individuals. The way he lashed out, the speaker could have been mistaken for some bearded, tough-talking and table-banging anti-corruption crusader! But his sermon which should normally receive excellent review by the normally-ebullient Nigerian press was treated as any one-off, below-average stuff. It took Speaker Dogara's removal of Jibrin from the chairmanship of the House committee on appropriations for Nigerians to come to terms with the rot Dogara has been presiding over.
Amid the unfolding drama in the House, Nigerians are beginning to appreciate that nothing could be nauseating and frustrating as a well-meaning government being forced to operate with a sickly crucial arm of government whose leadership see corruption as a way of life. This misplaced perception was the reason the House jesters failed to read the political climate accurately. Now that they have dropped the clanger by suspending Jibrin, the jesters should be prepared to square up to an irrepressible, tough-talking, embittered, not necessarily vindictive, one-man-riot-squad! Jibrin has gone too far in his war and, the blunder of his suspension is a tonic!
Honestly, clowning lawmakers are the least on the wish list of Nigerians! To that extent, the House of Representative should not be turned into another court where jesters are a permanent feature! When and how does change begin with individual who see nothing wrong in celebrating criminals? By the way, what decency is there in dining with criminals and treating whistle-blowers as pariah? Pray! What manner of country are we building when lawmakers feel no shame in revelling in execrable antics?
In any case, doesn't it feel great that the rain is gone …and Nigerians are beginning to see clearly?
Magaji is based in Abuja and can be reached at
Disclaimer:

"The views/contents expressed in this article are the sole responsibility of the author(s) and do not necessarily reflect those of The Nigerian Voice. The Nigerian Voice will not be responsible or liable for any inaccurate or incorrect statements contained in this article."