I Cannot Speak Evil Against Tinubu – Oyegun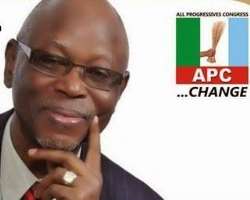 SAN FRANCISCO, September 27, (THEWILL) – National Chairman of the All Progressives Congress (APC), John Oyegun, has declined to comment or speak against Bola Tinubu because Tinubu is a National Leader of the party.
THEWILL recalls that Tinubu had, on Sunday , called for the resignation of Oyegun over the Ondo Governorship primary of the party, which be alleged was manipulated by the National Chairman against the recommendation of the Appeal Committee.
However, speaking with journalists, Oyegun insisted that the forthcoming Edo Gubernetorial elections was more important adding that he would consult with party leaders before makes a comment, if needed.
"Asiwaju is a well-respected leader of the APC and as such, I cannot be heard speaking evil against him. You know we have a crucial election here in Edo which is my priority right now," Oyegun said.
"I don't want to lose focus and I know Asiwaju also wants us to win because we all worked hard for this. So may be after the election if there is need, I will speak if there is no need, I will relax."
"But all I can say now is that most of the things said in the papers about me are not true. I have always believed in internal democracy, that the credibility of primary must be taken seriously."
"I believe that if the primaries of parties are not credible, it may derail any democracy, so I don't play with these things at all."
"Everybody knows me and I don't joke with my credibility and I have tried to maintain it. Like I said, Asiwaju is our leader and we all hold him in high esteem, so I will never join issues with him."
"But maybe after the Edo elections, after we must have emerged victorious, we may speak on some of the issues raised. So there is no problem at all."
"Edo is the focus for now and as you know this is my state, so it is a very serious election for us. So I want to be allowed to remain focused; then after the election we can speak."
Story by David Oputah