Why I Choose Family Over My Acting Career -Opeyemi Aiyeola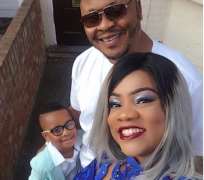 Popular Nollywood actress, Opeyemi Aiyeola has finally responded to why she left the entertainment industry as of when she was more in the spotlight.
According to the actress, ignorance and petty makes people ask her why she left her acting career and settle for something else that took her away from the spotlight.
She however shares some photos of one of his kids who turns 5 year old today, which she claimed is one of the reasons she quit acting.
The Yoruba actress in her post is apparently revealing why she chooses family over her acting career.
Her caption: "People ask me all the time,' Ope why did u sacrifice ur career for family?,why did u leave at a time u were hotter than hot?, U could be up there by now, U could be getting most hot deals n endorsements, ur career would have blown supa huge!!!!. I look at them and always think n say to myself, 'ignorance' and 'petty'. Now I am glad n proud to ans those questions. This is one of the reasons why. Abandoning my career to have lovely, handsome, glorious, blessed, intelligent, world changer boys is why. If given the grace and opportunity I will do same over and over again. My pride, my prince, my joy, my future, my wealth, my endorsement, my career, words can't express how honoured and grateful to God I am for the grace to be ur caretaker. As u turn 5 today I celebrate u, I appreciate u, I honour God in ur life. David."