Chibok girls: I won't negotiate with Boko Haram until… – Buhari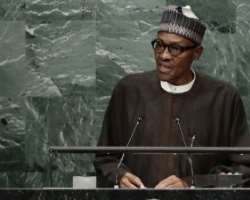 President Muhammadu Buhari said his government is not ready to negotiate with Boko Haram until it is clear who is leading the terror group.
'I gave directives on three different occasions and I am not ready to go beyond this unless the leaders of Boko Haram come out in the open and say that they are leaders of Boko Haram,' he told VOA on the sidelines of the United Nations General Assembly in New York.
'Then I will be ready to talk to them but not [to] somebody coming to tell me that they are bringing one person or two people today and that they are leaders of Boko Haram,' he said, speaking in Hausa.
In recent weeks, long-time leader Abubakar Shekau and former spokesman Abu Musab al-Barnawi have each stated they are leading the Islamist extremist group.
Buhari also said the frustration over the inability to liberate the Chibok girls needs to be put in perspective.
He said that Boko Haram has killed more than 20,000 Nigerians since it began its insurgency in 2009 and the kidnapping of the 230 girls from the north-eastern town of Chibok in 2014 is just one of many atrocities they have committed.
He added the government will work to reunite Chibok girls with their parents and make sure that they return to school.