ONI DENIES PAYING JUDGES N3BN FOR JUDGMENT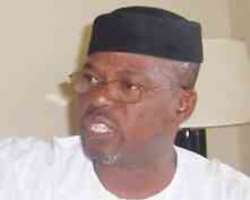 The allegation came following the confirmation of Oni's victory by three of the judges on the five-man panel, which heard the petition of the Action Congress governorship candidate, Dr. Kayode Fayemi, against Oni, who contested on the platform of the Peoples Democratic Party.
The three judges, whose majority judgment favoured Oni are the chairman of the tribunal, Justice Hamma Barka; Justice Suleiman Dikko and Justice Mohammed Goji.
While these three judges dismissed Fayemi's petition, two other judges – Justice Abiodun Adebara and Justice Obande Ogbuniya, nullified Oni's victory and declared Fayemi as the winner of the poll. They also ruled that the certificate of return issued to Oni be withdrawn and issued to Fayemi.
Reacting to a news item posted by an online news portal, Saharareporters, the state Commissioner for Information and Civic Orientation, Mr. Taiwo Olatubosun, who spoke on behalf of his boss, said in a telephone interview with our correspondent in Ado-Ekiti on Saturday that the allegation was nothing but a ploy to explain the failure of the opposition party to prove their petition.
The commissioner, who said that Oni would never get involved in any corrupt practice, challenged the opposition party in the state to come forward with evidence to substantiate their claims.
Olatubosun said, 'The allegation that Governor Segun Oni bought the judgment with the sum of N3bn is not true. How much is the allocation accruing to the state? About N1.7bn, that means the administration will not do anything for three months if such amount is spent on bribery.
'The problem with the opposition in the state is that they don't want to accept the reality that they are not popular. They don't want to believe in the wishes of the people, they just want to have their way even when they are unpopular with the people. That is not done in civilised societies, they must change.'
Meanwhile, former Governor of the old Ondo State, Evangelist Bamidele Olumilua, has hailed the resolve of the Action Congress governorship candidate, Dr. Kayode Fayemi, to appeal the majority judgment delivered in his petition heard by the Justice Hamma Barka-led tribunal.
Olumilua said this in Ado-Ekiti on Friday while addressing chieftains of the AC and their supporters at Fayemi's Campaign Office.
The former governor said that he had the fear that Fayemi might change and throw in the towel after the verdict, having started the legal battle immediately after April 14, 2007 governorship poll.
But he said that he was happy that the AC candidate had shown that he was determined to get justice through any lawful means.
He said, ' Does Fayemi look like a hungry man? No, his love to liberate the people from the shackle of oppression is what is driving him. I also thank you the people of the state for standing by him, for not being tired.'