TOLL RISES TO 30 AS RESCUE CONTINUES AT RUSSIAN MINE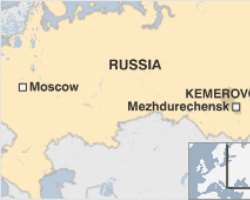 The number of people known to have died after two gas explosions at a coal mine in Russia has risen to at least 30.
The blasts at the Raspadskaya mine in western Siberia trapped more than 80 others underground.
Those who are trapped include both miners, and rescuers who were already underground when a second explosion happened.
It is not clear whether any trapped miners are still alive, according to the Emergency Situations Ministry.
"We continue the search operation and hope to rescue somebody," said Emergency Situations Minister Sergei Shoigu.
Another 71 miners have been injured in the incident.
Many of Russia's mines have poor safety records, and there have been calls for standards to be tightened.
More than 300 were underground when the first explosion happened just before midnight on Saturday and most were brought safely to the surface. Reports blamed the blast on methane gas.
The second explosion came about three hours later and contact with a team of 20 rescuers was lost.
The governor of Siberia's western Kemerovo region, Aman Tuleyev, has taken charge of the rescue operation.
He said the second blast had destroyed the main air shaft, causing more injuries, and there was a risk of more explosions.
"The rescue work will continue when the atmosphere in the mine is restored, but to conduct rescue work now means to send people to their death," he said on Sunday.
Vladimir Putin said the rescue operation should resume as soon as possible.
Speaking at a meeting with emergency officials broadcast on state TV, the Russian prime minister said: "It is clear that the situation at the mine is very hard. I would say that it is tragic.
"The saddest thing is that we cannot send in additional rescuers now as it is very dangerous due to the lack of ventilation.
"But we cannot sit on our hands and must do everything to save people," he was quoted as saying by AFP.
State TV pictures showed that the explosions had been so powerful that buildings on the surface had been badly damaged.
The mine, about 3,500km (1,900 miles) east of Moscow, produces about eight million tons of coal a year, according to its website.
Kemerovo is part of the major coal-producing Kuzbass region.