PDP Settles Rift As Makarfi, Sheriff Agree To Work Together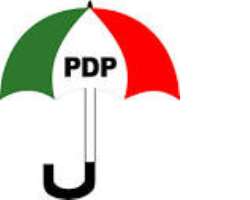 Senators Ahmed Makarfi and Ali Modu Sheriff have both resolved to sheathe
the sword and bring a lasting peace back to the embattled Peoples
Democratic Party, PDP.
In a statement jointly signed by Sheriff an Makarfi, the two leaders
agreed to consult with other relevant organs of the party for a final
resolution of the leadership crisis that has engulfed the party.
The statement titled "Rejuvenating the PDP reads: "This is without
prejudice to all outstanding matters in court. At a meeting held this
morning between the two of us, a holistic review of the state of affairs
of our great party, PDP, was deliberated upon.
"In reviewing the crisis that has engulfed our party since the loss of the
2015 general election after 15years of uninterrupted leadership at the
centre, it became obvious to both of us as principal actors that it is
time to heal the wounds. And bring about a united, focused and
constructive opposition party that can bring sanity to our democratic
process. Bringing relief to the teeming supporters of our great party and
to the benefit of our great country.
"Based on the above, we have both agreed to: Consult widely with all
relevant organs of the party; Set up a joint committee that will carry out
a holistic reconciliation of all aggrieved segments of our party across
the country and in Diaspora; Pursue the vision of the founding fathers of
our great party.
"Details of all the above will be made public soonest. "We therefore call
on all party members to remain calm and refrain from any actions and
utterances that could further bring about divisions or dispute the party"
The post PDP Settles Rift As Makarfi, Sheriff Agree To Work Together appeared first on Pointblank News .