Russia: A Battle Between Economy And Diplomacy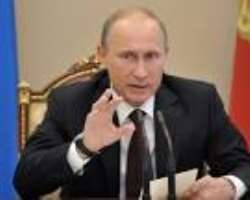 Russia has been fraught with boisterous diplomatic and economic issues in the recent times. Forecasters say that this country that is officially known as Russian Federation is aiming at restoring its world power grandeur, which went into oblivion after the defunct Soviet Union lowered her Soviet hammer and sickle flag for the last time over the Kremlin, on December 25, 1991, and swapped them with the Russian tricolor.
The country has a pursuit for influence and has been telling the West that it cannot be swayed by speechifying of the USA and Europe not to take its stand in the comity of nations – sovereignty. In the light of this, some countries have made Russia an enemy than a friend and this is affecting the country in diverse ways.
Russia is facing challenges such that the citizens are finding it hard not to complain. She is entrapped in-between economic crisis, unemployment, internal hues and cry, amongst others and a battle of supremacy with the West, because of the 2014 annexation of Crimea from Ukraine.
Enemies And Friends Of Russia
Turkey which was regarded as an enemy by Russia in 2014 with 1 percent of Russians believing it, garnered a figure of 29 percent of Russians who see Turkey as an enemy to Russia by 2015.
In The Levada Center Poll, 2016, Russia's top enemies are USA, Ukraine, Turkey, Poland, Latvia, Lithuania, Germany, UK, Estonia, Georgia.
The countries that are seen as Russia's best friends are Kazakhstan, China, India, Armenia, Cuba, Syria, Uzbekistan, Azerbaijan, Kyrgyzstan.
Freshly, Russia and Belarus are also stepping out for the other after decades of a brotherly harmony.
Before their newly perceived disunity, Russian and Belarusian presidents had maintained a bilateral relationship, with President Alexander Lukashenko of Belarus and President Vladimir Putin of Russia once holding close political, economic and military knots.
In spite of this, Russian-backed pro-self-government and national army forces in eastern Ukraine, have made Lukashenko to start laying the foundations to make his country's relationship with Europe a formidable one against his once "brotherly love" with Russia.
What European political observers have seen is a Belarusian president that has been sending diplomats from his country to European capitals, and is in convivial ties with embassies from the EU and US – the two entities that have locked their horns with Putin in their diplomatic war.
In April 2015, Belarusian president was precautious to talk about the matter of Russian influence on his country and showed slim love concerning the presence of pro-Russian NGOs in Belarus and supposed that he had strong methods to handle the presence of radical Russian groups active in his country.
From Economic Challenges To Rising Unemployment
Ranging from rising economic challenges to rising unemployment and rising prices of goods, in what sounds like a population census in September 2016, over fifty percent Russians among whom are Russian Middle Class, have said that these are a very big threat to their existence.
"The boom years are over," Chris Weafer, a senior partner at consulting firm Macro Advisory in Moscow, tells Bloomberg. "The old model based on trickle-down oil revenue has come to an end."
The Moscow Times edition of Sep 15, 2016, authoritatively gathered through the Interfax news agency that the economic crisis has skyrocketed to 49 percent, while rising unemployment lays at 35 percent.
Fears are in the air that the citizens may be heading for exile if urgent measures are not taken to curb the rising economic menace in the country. Since the economic crunch hit the once super nation in the defunct USSR in 2014, many workers take home has diminished.
"The middle class, defined by Russian researchers as people with higher education who earn above the average and don't do manual labour, has doubled to 40 percent of the 146 million-person population under Putin.
"While he pledged in 2008 to increase it to as high as 70 percent by 2020, Natalia Tikhonova of the Higher School of Economics in Moscow sees it shrinking to 30 percent in the next year or two," says Bloomberg.
It's gathered from Rosstat state statistics service that Russians wages are not up to 10 percent, pushing in addition, 2.3 million Russians into poverty in 2015.
The resultant of this is that many citizens are cutting down on costly foods and other necessity in order to handle the economic down spiral.
Citizens And The Mountaineering Prices Of Goods
In a recent poll conducted by the state-run VTsIOM pollster, the Interfax news agency, 70 percent of the citizens are not smiling at all on the mountaineering prices of goods, which was said, have gone abysmal by 5 percent since December 2015.
It's disheartening that since 1998, this is the first time Russians are to experience their expenses being higher than their income.
This was gathered by Center of Macroeconomic Analysis and Short-term Forecasting, adding that the citizens surpassed their revenues by 418 billion rubles ($5.3 billion).
This is given that 76 billion rubles ($960 million) were earned in 2014, which was more than their take home.
There is apprehension that this hardship might not end soon with the Ministry for Economic Development alleging its fears that the recession that has dwindled the wages of Russians by 9.5 percent last year in comparison to 2014, will not be in the rear to ending in the next two years.
Putin Garnering Popularity
Despite the hardship and diplomatic issues besetting Russia, many see President Putin as garnering popularity in the mix of convulsing economic situation.
Jill Dougherty, CNN Contributor and formerly CNN foreign affairs correspondent and Moscow bureau chief with expertise in Russia and the former Soviet Union in December 10, 2015, reports the Levada Center, an independent Russian polling company, saying that Putin's poll rankings are in the stratosphere, perching in the ration of 85% and 90%.
While some Russians are frustrated under the leadership of Putin, his supporters believe that if Russians cannot buy items like Turkish tomatoes, they have other tomatoes to buy.
However, the president's critics are pointing out to him that his government is trading on the path, which collapsed the Soviet Union, being that there was a harsh economic policy of the Soviet Union that was feeble to feed the people.
Russians' Views On The West
Some citizens are of the view that the recession in the country does not mean that there is starvation or hunger since Russia can produce food.
Dougherty, nevertheless, believes that Russians even blame their economic problems on countries like the U.S. and Europe that imposed sanctions against Russia in the first place.
Russians also have a mindset that the western media are attacking their country, economically, politically, and militarily, hence the viability of government-controlled anti-western media approaches.
Effects Of U.S.-led Sanctions Over Ukraine
The Bloomberg publication of April 23, 2015 hypothetically gave impression that hunger in Russia was forcing some younger ones to abandon their homes for their relatives' places in search of comfort.
According to the source: "An economic slump sparked by U.S.-led sanctions over Ukraine and a collapse in oil prices threatens to undo many of the gains the former KGB colonel delivered since becoming president in 2000.
"That means the unwinding of a middle class that emerged, taking with it the hopes and profits of companies such as General Motors Co. and Germany's Metro AG, which bet big on the world's biggest energy exporter. Consumer confidence has plunged to its lowest since 2009."
A Belief That The West Will Fall
But in all, there is a belief among Russians that the West will fall someday like other empires before her.
"Western world is going to inevitably meet with its destiny. I am surely not the first one who notices how many empires/civilizations became increasingly decadent before their ends. What is today called western values is nothing but advanced stage of decadency.
"I am not saying everything is bad and it should be burned, far from it. I am simply expanding Danlievsky's idea of nations (civilizing types) growth and decline and from that point of view if any Russian is accepting so called western values, he is simply alienating himself from Russian world," says a Russian analyst that didn't want the name in print.
Putting Up With Economic Hardship And Invasion Of Crimea
It's perceptible that the West's abhorrence of Russia's invasion of Crimea from Ukraine in 2014 is crushingly popular in Russia.
A report in Vedomosti newspaper, says of the invasion, "As a result, many people felt the rebirth of Russia's greatness that was lost after the fall of the USSR"; "We bared our teeth"; "We forced them to respect us"; "If they don't love us then, at least, they fear us."
While many Russians want their perceived diplomatic enemies to fear them by their invasion of Crimea, some Western media like the Bloomberg still pride that Russians are suffering untold hardship today, because they challenged the USA's decision not to go into Crimea.
But in another vein, analysts say that Putin enjoys growing patriotism and support from Russians with unflinching assurances since he waved the USA and Europe with the back of his hand and occupied Crimea.
Checks reveal that the unperturbed Putin feels that economic crisis in his country is "complicated but not critical".
A leading voice in Russian politics and international affairs, Maria Lipman, says, "This makes it easier for people to put up with economic hardships and for Putin to preserve his high legitimacy and high approval rating."
While opinion leaders add that Russian economy has gone down to 4 percent this year from an average of 7 percent annually in the Putin's first two terms from 2000-2008, a typical Russian still believes that Russians are an outstanding lot and they will always win at the end. By then, the USA and Europe they believe are in a war of attrition (and are corrupt for ages) with their country, will be reduced to a 3rdworld.
Odimegwu Onwumere is a Rivers State-Nigeria based Poet, Writer and Consultant. Email: [email protected]
Disclaimer:

"The views/contents expressed in this article are the sole responsibility of

Odimegwu Onwumere

and do not necessarily reflect those of The Nigerian Voice. The Nigerian Voice will not be responsible or liable for any inaccurate or incorrect statements contained in this article."
Articles by Odimegwu Onwumere