Ban corrupt Nigerians from public office — Maitama Sule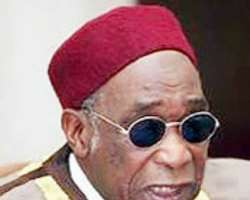 A former Minister of National Guidance, Yusuf Maitama-Sule, has called for a ban on public officers convicted of looting public funds from partaking in partisan politics and holding public office
Maitama-Sule told the News Agency of Nigeria in Kano, on Sunday, that the ban should be backed by law passed by the National Assembly.
'This will be possible when there is a law to back it and we hope the law will be enacted soon to support the idea,' he said.
He noted that the fear of Economic and Financial Crimes Commission, EFCC, by public officers was now the beginning of wisdom.
He said: 'EFCC has done extremely well in the discharge of its responsibilities so far, as there are a lot of recovered looted funds now.
'But the biggest challenge for EFCC is that it can investigate but it does not have the power to spend money and utilise it for other purposes.
Maitama-Sule, who was also Nigeria's Permanent Representative to the United Nations, also called for an enabling law for the government to utilise the recovered looted funds to improve the living standard of Nigerians, especially the common man.
He suggested the revitalisation of education, agriculture and power sectors in order to give the nation's moribund industries a new lease of life, using the recovered funds.
The elder statesman commended President Muhammadu Buhari for tackling insurgency, especially in the North-East.
He said: 'We have to thank God Almighty for the peace that has since been restored in the country and we will continue to pray for its sustenance.
'No meaningful development can be achieved in any country without peace and even the 'most diehard cynics' know that President Buhari has done well in terms of restoration of peace in the country,' he said.