VOLCANIC ASH DELAYS MORE EUROPEAN FLIGHTS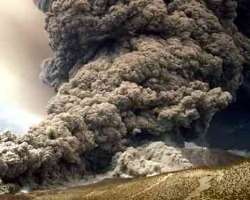 volcanic ash
Ash from an Icelandic volcano is drifting across areas of France, Spain, northern Italy and Germany bringing more disruption to European air travel, The British Broadcasting Corporation reports.
Several airports were closed, including Munich in southern Germany.
Another, higher-level ash cloud is still hanging over the Atlantic, delaying flights between Europe and the US as jets divert around it.
The United Kingdom's Met Office said the ash cloud could disrupt UK airspace over the next few days.
In Italy, airports at Milan, Pisa and Florence reopened on Sunday afternoon but many flights had been delayed.
Croatia closed the airports of Split and Zadar on the Adriatic coast until further notice, Croatia Airlines said.
French authorities said ash had forced the suspension of about 20 flights at Nice airport.
All flights were grounded at Munich airport in southern Germany on Sunday afternoon, with airports at Augsburg, Memmingen and Stuttgart also affected, Germany's DFS air safety agency said.
The measures would be in force 'until further notice', the agency said.
Spanish airspace had been returning to normal on Sunday after 19 airports in the north were closed on Saturday.
However, the national airport management agency Aena announced that seven airports were again closing from 1600 – Asturias, Santander, Bilbao, Salamanca, Valladolid, Leon and Burgos. Airports at Santiago de Compostela, Vigo and La Coruna were reopening at 1700, it added.
In Portugal, the airport in the northern city of Porto was closed until 1800 GMT, the European air traffic agency Eurocontrol said.
Six Scottish airports were closed overnight and Stornoway, Benbecula and Barra remain closed until 1800 on Sunday, Scottish transport officials said.
The Irish Aviation Authority also ordered five airports in the west of the country to close on Sunday afternoon. Airports in Dublin, Shannon and Cork were expected to stay open.
Weather forecasters predicted the ash cloud would gradually weaken as it spread over southern Germany, the Czech Republic and Austria by Sunday night.
Eurocontrol's latest map on Sunday showed two areas of concentrated ash over northern Italy and south-eastern France.
Aircraft reported an ash cloud over the Pyrenees on Saturday, the UK's Met Office said.
Last month, ash from the Eyjafjallajokull volcano shut down airspace across Europe for five days.
Recent images have shown activity in the volcano increasing and emitting ash up to 20,000ft.