Air Force Arrests 6 Men In Connection Of Arms Deals In Adamawa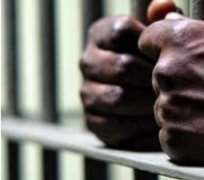 The commander of the 37 base services group of Nigeria Air force Yola, Air commodore Haruna Umar Muhammed has arrested six men in connection of arms deals in Adamawa state.
Umar in a joint press conference with other security agencies at the Nigeria Air force base in Yola said the public should be aware on the alleged case of illegal possession of arms and ammunition by suspected criminals.
He paraded the men who are numbering six of them to News Men including one Mr Dubi Elisha a Numan base Business Man who was arrested by men of the Nigerian Air Force in a joint operation with personal of the Department of State Security (DSS).
"He was found to be in possession of a missing FN Rifle belonging to the Nigerian Air Force among other military weapons. Dubi was identified to be an ex-service man who discharged from the Nigeria Army". Umar Said
According to him Mr James Dauda was behind the stealing of some missing weapons in the command, always posing himself with fake camouflage uniform and identity Tag of Nigeria Air force but finally arrested on 3rd September, 2016.
Dauda when arrested at Hayin Gada and after much interrogations confessed to the stealing of the other missing weapon, the FN Rifle.
According to him, he sold the FN Rifle to Mr Dubi Elisha. "His voluntary confessional statement also disclosed the involvement of other accomplices:These are: Mr Saul Chamak, Mr Yaro Philemon, Mr Martins Bears and Mr Tatula Moses were since been arrested."
"Other incriminating items were recovered in the course of investigation. These include :Browning Pistol, FN Rifle, a double -barrel gun, thirty -seven rounds of 9mm live ammunition.
"Also in the recovery are : Thirty -nine shot gun cartridges, three arrows, a practicing browning pistol, desert camouflage military uniforms and One 7.62mm live ammunition."
"In view of the foregoing, the Nigerian Air Force as a professional fighting force and as part of its constitution mandate, deems it appropriate, without prejudice that further investigation be carried -out by the appropriate security agencies, to make their preliminary findings on this sensitive issue known to the general public. In view of this ,these suspects will be handed over to the DSS for necessary action." He added