CHALLENGES AHEAD OF NIGERIA'S BACK-UP COMMUNICATIONS SATELLITES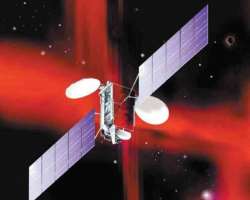 NigComSat-1
As Nigeria looks forward to the launch into space of the replacement satellite for NigComSat-1, experts urge President Goodluck Jonathan not to renege on the Federal Government's promise to finance two additional back-up satellites. DAYO OKETOLA reports.
NigComSat-1, Nigeria's, and indeed Africa's first
communications satellite, was launched on May 14, 2007, but it failed in orbit on November 11, 2008, due to power exhaustion connected to technical glitches on its solar array. It was consequently de-orbited and buried in space.
On March 24, 2009, the Federal Ministry of Science and Technology, Nigerian Communication Satellite Limited, and China Great Wall Industry Corporation, the manufacturer of the satellite, signed another contract for the free delivery and launch of a replacement satellite called, NigComSat-1R, in the last quarter of 2011 and subsequently launch back-up satellites NigComSat-2 and NigComSat-3 within the following 18 months.
NigComSat-1R will be replaced free-of-charge by CGWIC, because it was fully insured by a consortium of international insurance corporations, which included SpaceCo of France, Munich Cray of Germany, and the People's Insurance Company of China.
Former Director-General, National Space Research Development Agency, Prof. Ajayi Boroffice, says, the value of the insurance, which stands at about 112 million euros, was fully paid for.
While NigComSat-2 and NigComSat-3 are expected to be launched into orbit 18 months after the replacement of NigComSat-1 with NigComSat-1R by 2011, experts urge the Federal Government to stay committed to its promise of financing the two back-up satellites.
A source at NigComSat Limited, who asked not to be named, says officials of the satellite management company hope that the Federal Government will continue to finance the building of NigComSat-2 and NigComSat-3; adding that prospective project contractors have been requested to submit their expressions of interest in the project.
The source further urges the President to release the fund for the two back up satellites before the tenure of the current administration ends, adding that such gesture would keep NigComSat Limited in good stead in the global communications satellite industry.
The source also says the replacement satellite is on course and will be delivered as scheduled; adding that critical review meeting have been held quarterly in China and Nigeria.
NigComSat-1R, according to the source, is being developed to meet the needs of consumers in Nigeria and Africa.
The Managing Director, Teledom Group, Dr. Emmanuel Ekuwem, who believes that the Federal Government should continue to expand its foot print in space technology in Africa, says it is necessary to have back-up satellites in anticipation of any negative development on the pilot satellite.
He says, 'I really respect the courage of the Federal Government not to be deterred by the tragedy that befell NigComSat-1. It means that Nigeria will not back out of a progressive project because it encountered any obstacle. I have no idea of the cost implication of the two proposed back-up satellites, but if it is part of the whole replacement package, it is all well and good. 'If there had been a back-up satellite when NigComSat-1 failed, customers would not have to be switched to another satellite. If the cost of procuring the two back-up satellites will not drain the resources that should be for other developmental projects, government should go ahead; but if it will, I suggest the government should go for one rather than two.'
The President, Nigeria Internet Group, Mr. Lanre Ajayi, who corroborates Ekuwem's position, states that the Federal Government cannot afford to renege on its foray into space technology, particularly the communications satellites, because they are required to complement fibre optic infrastructure rollout in the country.
He says, 'We need satellite to compliment fibre optic infrastructure rollout in the country because there are areas in the country that fibre optics cannot reach but satellite can. For instance, satellite will reach rural areas where fibre optics cannot cover. However, we need to be strategic in making the investment.'
Ajayi, who strongly makes a case for NigComSat-2 and NigComSat-3, says the additional back-up satellites should not necessarily come from CGWIC.
'Back-up satellites are required but other manufacturers should be considered. The whole process should be left for the private sector. While I agree that the Federal Government should invest in additional satellites, I don't think government should continue to put tax payers' money into such projects. It should be handed over to the private sector because it is a viable business,' he says.
He commends government's effort in the research aspect of the country's space technology programmes, adding that the funding deployed into it is laudable. He, however, says the time is now ripe for the government to allow the private sector to manage the communication satellite business.
He also recommends that the government could invest in one back-up satellite instead of two.
The President, Information Technology Association of Nigeria, Mr. Jimson Olufuye, also supports that the Federal Government should invest in the back-up satellites because of its financial prospect, but suggests that the private sector should be allowed to manage them.
Experts argue that Nigeria's entry into the risk-ridden communications satellite industry with the launch of NigComSat-1 revolutionised and consolidated the country's position as the technological hub of Africa.
Nigeria reportedly signed in December 2004 a contract with CGWIC for the design, manufacture and launch of the NigComSat- 1. It was based on the Chinese DFH-4 Bus and featured 4 C-band, 14 Ku-band, 8 Ka-band and 2 L-band transponders.
The satellite was launched on May 14, 2007, at the Xichang satellite launch centre, Sichuan Province, China. Its deployment for commercial purposes started on July 6, 2007 with a life span of 15 years,
It brought great benefits and challenges, part of which was the failure of NigComSat-1, a rampant occurrence in the communication satellite industry.
NigComSat -1 was said to have brought relief in an industry that was, hitherto, dominated by foreign satellite operators in which Africa paid more than $800m annually for lease of transponders and bandwidth supply.
Months after NigComSat-1 was launched, it had succeeded in crashing the bandwidth rates in the country and brought competitive pricing of satellite transponders to the benefit of the consumers.
Experts say 50 per cent cost saving was achieved by bandwidth consumers within different sectors of the economy such as banking, telecoms and government agencies. To these consumers, exploitative bandwidth pricing would have been permanently mitigated if there were back-up satellites.
Experts, therefore, say it is pertinent to look at the benefits of the project, considering the huge investment required to actualise the back-up satellites, in order to stay on course.
The communication satellite, according to experts, will reduce drastically the huge amount of money spent yearly on telephony trunking, data transport services, phone call charges and broadband access.
It will also enhance Internet access in villages and remote areas. This is one benefit that will change different sectors of the economy when everyone has access to the Internet. It will also aid rural telephony.
The satellite will provide the needed convergence of different networks into one to make for efficiency in the provision of services like email, SMS, web-hosting, GPRS control devices, inter-switching between financial institutions, GSM and 3G. e-Learning, e-commerce and tele-medicine will also be improved.
The satellite will also be employed in the management of natural resources like monitoring of petroleum product pipelines, while high resolution imaging can be provided to monitor the urban and rural areas, in fact the satellite has already captured over 2,000 images around the country; this will help in crime detection and control. Automatic tracking systems can work well, thereby serving security purposes.