Fayose says APC behind call for postponement of Edo election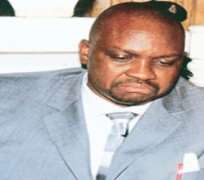 Ekiti State Governor, Ayodele Fayose,  condemned the call for the postponement of the Edo State governorship election by the Department of State Services, and the Police, alleging that it it is the handiwork of troubled All Progressives Congress in the state.
"It is obvious that the All Progressives Congress, APC, is challenged and afraid of losing the election and the party is using the federal government security agencies to cause a postponement of the election so as to be able to perfect its new rigging plans."
The governor, who raised the alarm that "democracy is in danger" under the APC government, said; "obviously, within two years of APC government, Nigeria is in both economic and political recession and this should worry all true lovers of the country," Fayose said.
He spoke through Lere Olayinka, special assistant on Public Communications and New Media.
Fayose said he was worried that "democracy in Nigeria has now graduated from inconclusive elections to postponement of elections in other to return APC candidates at all cost."
He said, "Within two year, the APC government not only destroyed the economy of Nigeria, it has destroyed the legacy of free, fair and credible electoral process bequeathed on the country by the PDP."
The governor said; "The questions Nigerians must ask the APC-led federal government are: what security threat can overcome over 50,000 security personnel in an election holding in just one out of the 36 States in Nigeria? If election must be postponed in just one State because of security threat, what will then happen in 2019 when elections will be conducted in the entire country?
"Another question is: were they unaware of the security challenge when President Mohammadu Buhari went to Edo State to campaign for the APC yesterday?
"No doubt, this is a game being played by the APC because it has become so imminent that the party cannot win the election if it is held on Saturday as scheduled.
"The postponement is obviously meant to give room for the APC to perfect a new rigging strategy and lovers of democracy in Nigeria should begin to see how the APC aims at perpetuating itself in power beyond 2019 even now that the party has been rejected by Nigerians."