Eniola Badmus, Kiki Omeili & Judith Audu star in "Deeply Cut"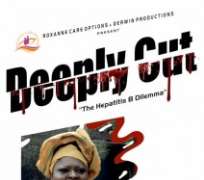 The advocacy film tells the story of Bili's greed that leads her to desperate measures to make extra money, leaving in her trail a lot of possibly infected casualties, which include her bosses. The movie also educates people about Hepatitis B.
"Deeply Cut" stars Eniola Badmus, Kiki Omeili, Ashionye Raccah, Funky Mallam and Judith Audu. The movie is directed by Grace Edwin-Okon, while Kehinde Omoru was in-charge of production.
Watch the trailer below.