PDP MUST RESPECT ZONING ARRANGEMENT – ATIKU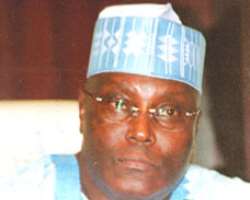 Atiku
Former Nigeria Vice President, Atiku Abubakar, speaking on the death of Nigeria's leader, President Umaru Yar'Adua, on BBC Newshour. Excerpts:
BBC: I've just been speaking with Atiku Abubakar, a former Vice President who some people say is in the running to be appointed as the Vice President again under the new President. First I asked him how he felt about the death of President Yar'Adua.
Atiku: My personal reaction is that of sadness and grief, you know, being a very close person to me whom I consider a brother. So it is always sad to lose a brother.
BBC: But how effective do you think President Goodluck Jonathan is likely to be? There are also some challenges facing Nigeria at the moment?
Atiku: Indeed, there are a lot of challenges facing Nigeria at the moment but the most important challenge facing Nigeria is the stability of our democracy and the deepening of the democratic institutions that have been built.
BBC: Now, he has to appoint a new Vice President and there has been talk of you being in the running, has he approached you?
Atiku: Well, honestly I am not aware. As I talk to you now, I am just returning from Katsina where I attended the funeral of the late President. So, I am not aware of what is going on around Abuja. So, I have no idea.
BBC: Do you think he would have to choose the Vice President from the North?
Atiku: Obviously yes, to have a political balance and equilibrium in the country. It has always been like that. Power has always been shared between the North and the South in one form or the other.
BBC: Now the informal agreement has always been that a President from the North serves two terms and then the President from the South two terms.  But President Yar'Adua only had half-a-term
Atiku: Well, yes, I am aware of that agreement; I was a party to it. It exists and I expect the party will implement that policy and if the party decides not to implement it then, it will also have to meet and review it.
BBC: When you say implement it, you mean in terms of the 2011 election because President Goodluck Jonathan of course is from the South. Does that mean if they implement the policy, a different candidate from the North would have to stand?
Atiku:  That is the understanding definitely.
BBC: So, if he did say he was going to stand, would that cause political upheaval in Nigeria?
Atiku: Ahh! I know it is bound to cause some political instability and that is what we don't want at this point in time. Because we want to stabilize our democracy, we want to stabilize our polity so that we can develop.
BBC: So, what you are saying is that in the interest of stability, President Jonathan shouldn't stand in the 2011 election?
Atiku: In the interest of stability, ahhhhh, you know, all members of the party should abide by the decisions of the party.
BBC: (Cuts in) and the party should decide to put up a Northerner?
Atiku: Well, the party is obliged to do that if it does not review its last decision.
BBC: Now, what sort of President does Nigeria need at the moment?
Atiku: We need a strong President, we need a credible President. We need a President who has the vision and ambition to steer Nigeria and leave a solid foundation for economic growth for unity and stability of the country.
BBC: The presidential election next year, will you be running?
Atiku:  Ahhhhh! I don't think I am in the position to answer this question now because there are quite a lot of things agitating my mind, that have occupied my mind. So that decision, I think, will be considered later.
BBC:  So, you don't know?
Atiku: Ahhhhhh, at the moment, certainly, I am not thinking about that. I have much more urgent problems.