GLOBAL SHARES FALL ON GREECE DEBT WORRIES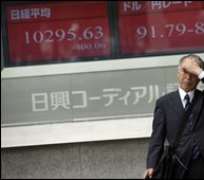 Global stock markets have fallen sharply, amid investor fears that Greece's debt crisis could halt the global economic recovery.
In the US, the Dow Jones index closed down 1.3%, while France's Cac 40 fell 4.6%, the UK's FTSE 100 shed 2.6% and Germany's Dax lost 3.3%.
Japan's Nikkei index shed 3.1%, having fallen by 4.1% in morning trading.
Sterling also fell sharply against the dollar and the euro as results poured in from the UK general election.
The pound fell more than 3 cents, or 2.1%, against the dollar, to $1.4633.
Against the euro, it fell by 2.6 cents, or 2.2%, to 1.1478 euros.
The UK election resulted in a hung parliament, which raised concerns among investors that a weak government might not be able to implement policies quickly to reduce the UK's high budget deficit.
However, sterling later bounced back against both the dollar and the euro as talks between political leaders began in an attempt to form a government.
Contagion fear
The continued global turmoil on the stock markets comes a day after Greek MPs approved drastic spending cuts in exchange for an international financial rescue plan, amid violent protests in Athens.
European leaders are meeting in Brussels to finalise details of a 110bn-euro ($139bn; £86bn) loan package to Greece, while the G7 finance ministers have also discussed the Greek debt crisis and its implications for the global economy.
Andrew Balls runs the European division of Pimco, the world's biggest bond investor. He says the current situation is alarmingly reminiscent of the period in 2008 surrounding the collapse of Lehman Brothers.
"You have big concerns about liquidity and of markets starting not to function properly," Mr Balls told the BBC.
"You have a problem which starts in Greece and spreads much more widely. In 2008 there were concerns about exposure to sub-prime mortgages and those concerns meant banks didn't want to face each other or be exposed to each other.
"The comparison now is where banks have exposure not just to Greece but also to Spain and Portugal and Italy."
Both Spain and Portugal also have high budget deficits and were downgraded by Standard & Poor's credit rating agency last week. There are fears they could be engulfed by the Greek debt crisis.
Cash injection
Among the stock markets in Asia, South Korea's Kospi dropped by 2.2%, while China's Shanghai index fell 1.9%. Shares in Hong Kong, Taiwan and Singapore also fell.
Japan's Prime Minister Yukio Hatoyama said he was "very concerned" by the losses.
The country's central bank said it would inject more than $20bn (£13bn) in short-term loans to commercial banks to boost liquidity.
"The Bank of Japan aims to increase a sense of security in the markets by providing ample funds," said Bank of Japan official Yuichi Adachi.
The BBC's Roland Buerk in Tokyo says the crisis in Europe hurts Japan because its economy has relied on exports for growth.
And as investors flee the euro for currencies perceived to be safer, such as the yen, Japan's currency strengthens, making the products of its companies more expensive abroad, our correspondent adds.
In New York, the Dow Jones share index plummeted 9% at one point before bouncing back to end Thursday down 3.2%.
The BBC's Caroline Hepker in New York says there are rumours that the drop may have been caused by an erroneous "fat finger" trade at a Wall Street bank.
The New York Stock Exchange said it had found no error, but the Securities and Exchange Commission and Procter & Gamble, which saw its shares hit, are reviewing the matter.