EUROZONE LEADERS APPROVE GREECE AID PACKAGE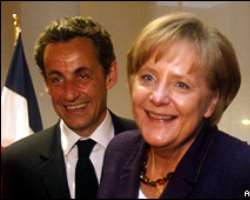 Leaders of the 16 EU member states that use the euro have approved an 110bn euro ($145bn; £95bn) loan to Greece to prevent its debt crisis from spreading.
European Commission President Jose Manuel Barroso said the eurozone would do whatever it took to safeguard Greece's financial stability.
In return for the three-year loan, Athens must cut public spending.
The euro's value has fallen because of fears that countries such as Spain and Portugal could suffer similar problems.
The eurozone leaders also announced proposals for a European Stabilisation Mechanism to preserve financial stability.
'Serious situation'
At a meeting in Brussels on Friday, the eurozone leaders gave their approval to the EU-International Monetary Fund rescue package for Greece, and committed to "accelerate" plans to reduce deficits.
They also agreed to tighten EU budget rules, put in place more effective sanctions for breaking debt guidelines, and monitor deficits and competitiveness.
All institutions, including the European Central Bank, would use the "full range of means available to ensure the stability of the euro area", they said in a statement.
"We will defend the euro whatever it takes. We have several instruments at our disposal and we will use them," Mr Barroso told a news conference afterwards.
He declined to give any details of the plans, which will be presented to the finance ministers of all 27 EU member states at a meeting on Sunday, but said it would be done under "existing financial possibilities" in the budget.
The BBC's Jonny Dymond in Brussels says Greece's bail-out is requiring a lot more money than was suggested just a few weeks ago.
The financial assistance being offered is entirely without precedent – the hope is that it will stop the fears of default spreading from one indebted European country to another, our correspondent says.
"[We] are full aware that we face a serious situation in the eurozone. It is about responsibility and it is about solidarity. We will face the situation together," said Herman Van Rompuy, the president of the European Council.
The leaders hope to have the new European Stabilisation Mechanism, which would have up to 70bn euros at its disposal, in place before markets open on Monday to prevent investor fears over Greece spreading to other countries with high deficits, low growth or low competitiveness.
Germany's Chancellor, Angela Merkel, said the mechanism would send a "very clear signal" to market speculators to back off.
She had earlier spoken to US President Barack Obama, who called for a "strong policy response" extending to the international community.