MOTHERS ARISE FOR YINKA AYANDA'S ALBUM LAUNCH TOMORROW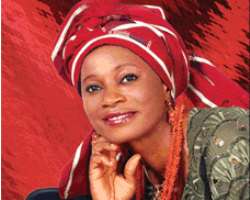 YINKA
For Oluyinka Ayanda, a long time dream will finally come to reality tomorrow. The senior cabin crew member of Arik Airline will launch her debut, Teni n' Teni at the Colliseum Arena, 34, Salvation Road, Opebi, Ikeja, Lagos. Time is 3pm.
Teni n' Teni, which, according to Ayanda, means 'what's mine is mine', is a lyrically powerful concoction of songs that espouse African culture and tradition.
Pretty Ayanda told Blockbuster recently: 'I appreciate my culture. I appreciate my country. I appreciate everything that has to do with Nigeria. Teni n' Teni also means appreciating yourself and what you have. What you have is very important. You have to guard against what you have jealously.
'In the album, I have five songs which I wrote and composed all alone. They include Teni n' Teni, Omoge Sora, Mother, which is dedicated to all mothers in the world, Jenr'aye Gbe and Kajola (Destiny). Omoge Sora could be described as my favourite because as a woman I know that one has to be serious, focused and determined to earn the respect of men. It's not easy for a woman to make it in this world so she has to be determined and prepared to go the extra mile.'
The album launch will attract dignitaries including Ambassador Segun Olusola, who is the Father of the Day, Lagos State First Lady, Mrs Abimbola Fashola, Mother of the Day while the chairman is Dr. Doyin Okupe. The chief launcher is Chris Najomo.