MY LIFE WITH KIRK FRANKLIN – MIKE MANNA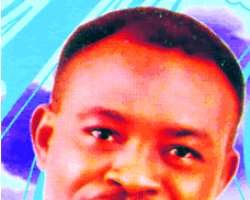 Mike Manna
Anaemene Igwedumma Michael aka Mike Manna is a gospel artiste whose ambition is to bring about positive changes in the society through music. Mike who hails from Awka in Anambra State is also an inspiration to many people.
He attended Igwebuike Grammar School, Awka and from there moved to Nana College, Warri, Delta State where he sat for his SSCE and passed with flying colours. Mike later proceeded to the Delta State University where he obtained a degree in Geology.
The gospel artiste, who when not singing works for a protocol company, traced his musical origin to his family of: singers. He says: 'Everybody in my family sings, not professionally though. My father was a chorister in his church during his youthful days and some of my siblings are song writers. Really, I would say that I was born into music and that music was infused into me. I am a walking music because I live and eat music. I often sing while walking on the street. My neighbours and everybody around me knows that I cannot do without singing.
Apart from singing in the choir during my secondary school days, I was an assistant choir director in my university and then during my NYSC, I also joined the choir. Right now, I am a member of the choir in my church. However, I started music professionally about four years ago when I went to the studio for the first time to record my songs.'
Mike Manna opens up to Blockbuster recently. Excerpts:
Why I shunned secular music
I believe that my gift is a calling of God as I love to sing songs that lift the spirit and impact lives. I sing about God, His salvation and His kingdom. I also sing inspirational songs but my greatest motivation is God, that's why I sing gospel songs. Since gospel means good news, the message that God wants to send to His people is good news.
On inspiration
The Holy Spirit inspires me. I also get my inspiration from the scriptures, preachers, life experiences, and the environment. In fact, I get inspiration from everywhere.
Music sometimes comes to me as a message or from words that I hear. It also comes as a tune that I hear in my spirit. I may just be somewhere and I hear someone say something and it strikes a chord in me. I will just write it down and later develop it. Sometimes, the full song comes and I quickly record it in my phone so I don't forget it. That's why I am always with a notebook and a phone that records.
D'emergence of Mike Manna
My new album is entitled, D'emergence. The letter 'D' instead of 'the' is to give the title a unique style. It is so titled because I have nursed a dream of releasing an album for years and finally it has come true. The album is the fulfillment of a dream, the materialization of a passion. Though, I wouldn't say that I have arrived, it is a good start for me. The album is a showcase of who I am really, that's why it's called, D'emergence. I don't really have any favourite among the songs because to me they are all good. But then I sing and listen to some more. Basically, the songs will appeal to people differently. However, for the sake of marketing, Higher Higher is my favourite.
Cost implication
Actually, the production of an album is highly capital intensive, depending on the quality of work you want to produce which determines who and where you produce your work. Because I wanted a quality job, I have spent hundreds of thousands of naira to put the album together.
There are 12 tracks in the album of which two are re-mixes.
Challenges
It was not easy at the beginning because I was inexperienced. I was looking for a producer and a studio where I could produce my work within a limited budget, and before I could find the right people and place, I had wasted a lot of money. I could not even use most of the materials they did for me, I had to rework them and remix some others. There is the case of a video that I shot and after spending over N200,000, it turned out a poor job that I could not even get myself to watch it. There were so many challenges, mostly financial.
Marketing strategies
I have a company who handles the marketing and distribution of the album nationwide. The marketer uses his distribution network to ensure wide distribution of the album. I am also promoting it through the media both electronic and print. I also have a lot of churches that have requested for my CD because I have ministered there and they were blessed. I am also doing direct marketing.
On piracy
Piracy! It is my prayer that piracy is stamped out of our system because it's a cankerworm that rips you off the reward of your labour. It is disheartening for an artiste to go through the tough times of producing his work only for someone else to rip him off his reward. It is not fair. My promo single is already being pirated in CD selections so you can imagine how painful it is. That's why I am happy with what PMAN is doing to fight piracy. But PMAN cannot fight it all alone, that's why the government must join us in fighting this cankerworm.
Role models
Fred Harmond is one of my role models. I love his vocal prowess. I love Kirk Franklin for his charisma and his strong lyrical composition. Locally, I respect Samsong, he has a mastery of his songs. I also have great respect for Sammy Okposo, he is something else. Whenever he mounts the stage, he delivers.
My wife, source of encouragement
My woman has been a source of encouragement to me. I am wedding next Saturday, May 15 here in Lagos. Rice and stew very plenty, just come with your big gifts (laughs). Sometimes when I am invited to perform, my wife goes with me. She prays on my career regularly.
Wonderful experience
My experience as a gospel singer has been pleasant and wonderful. It gives me great pleasure when people call me or stop me on the way and say that they were blessed by my song, or that they were going through some problems but that after listening to my song, they were encouraged and lifted in their spirit. It gives me great joy. I have even received some wonderful gifts from people after ministration. There was a case of a man who after ministration said because I have blessed him so much he would want to sow something into my life. He later brought me a TV set. It's amazing how people can love you.
I have had cases where I am walking on the street and somebody I don't know walks up to me, gives me money and says 'thank you' for my music. It makes me fulfilled when I see these things happening and I get encouraged that I am doing something good. So, I am using this opportunity to thank my numerous fans all over the country for supporting me, without them there won't be Mike Manna.