Gov Ugwuanyi orders palliative measures for flood-ravaged communities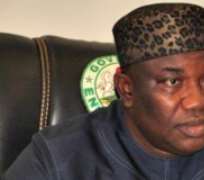 Governor Ifeanyi  Ugwuanyi of Enugu State has ordered Arab
Contractors, the firm handling road projects in Nsukka Metropolis to
immediately take salvage measures  to check  adverse effects of the
recent heavy downpours  on communities within the construction
vicinity.
To this end, he instructed the engineers to construct a borrow pit
that would act as a collecting point for flood water generated by the
rains .in order to prevent it from causing havoc in Uwani Ugwu and
adjoining communities in the area.
Governor Ugwuanyi assured the anxious residents who gathered to
welcome him when he paid an unscheduled visit to witness the extent of
damage done by the rains, that a permanent solution would be provided
later.
According to the governor, the engineers would redesign the road in a
way that would enable them to create a permanent channel for flood
water.
He also asked the Director of State Emergency Relief Agency who was on
the spot to provide relief materials for those affected by the floods,
noting that it was the responsibility of government to ensure that the
welfare of her citizens is accorded priority.
He explained that the road construction works in the area is a
positive index of development, urging them to endure the temporary
pains caused by the effects rains pending the provision of the said
palliative measures.
Representatives of the affected residents who were on hand to receive
the governor and his entourage took turns to speak on the incident and
commended the governor for his prompt response to their cries.
In her response, the Chairman of Nsukka Local Government Council,
Prof. Rose Onah, thanked the governor for his quick action to salvage
the situation, pointing out that they owe him a debt of gratitude for
the measures he had so far taken to transform Nsukka Metropolis and
raise the standards of life of the people of the area.