Disclaimer: AASU Did Not Confer Any Award On The Nigerian Chief Of Army Staff, Lt. Gen. Tukur Buratai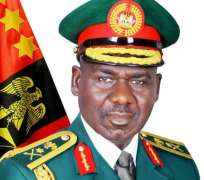 On behalf of the Secretariat of the All Africa Students Union (AASU), I have, once again, learnt with dismay that the Chief of Army Staff, Lt. Gen. Tukur Buratai has received on Friday 26th August 2016 in Abuja, Nigeria a so-called Kwame Nkrumah Award from AASU for his outstanding performance in Office. The "award" was presented by a so-called leader of the Union, Mr. Akinyele Olasunbo.
Without any attempt to undermine the merits of the Army Staff, Lt. Gen. Tukur Buratai, I would like to state categorically that Mr. Akinyele Olasunbo is not an officer of AASU and AASU has not in any way confer any such award to the respected Chief of Army Staff of the Federal Republic of Nigeria. We are aware that unscrupulous people have been doing such presentations to prominent Nigerians for their selfish interests, besides our efforts to discourage them to engage in such fraudulent activities.
AASU is a pan-African organization created in 1972 in Ghana and its Headquarters has been located in Accra since then. It does not have dismemberments anywhere.
We condemn, once more, this recurrent misrepresentation of AASU particularly in Nigeria by self-seekers in order to dupe very important people including the Chief of Army Staff.
We would like to use this opportunity to advise future targets of these fraudulent people to kindly contact the AASU-Secretariat in Accra, Ghana to seek for further information.
Yours-in-the-students'struggle!
Awaah Fred
(Secretary General)
www.aasuonline.org ; [email protected]/[email protected] ; +233(0)243101626
.