GEN BUHARI VOWED AFTER HE APPOINTED ME OIL MINISTER WITHOUT HAVING MET ME BEFORE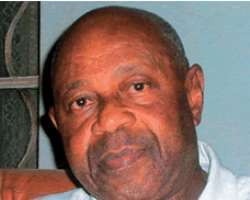 Professor TAM DAVID-WEST
I am impelled by a concatenation of reflectional circumstances to share for the first time, this testimony, which is predicated on my Christian (Anglican) background. A family background spanning over 100 years (from 1908) of the Christian faith. It is my very strong belief, religiously as well as philosophically, that every believer can with deep meditation discern Divinity or divine purpose in our individual life's events. And that everything for believers, the irritants or even the traumatic or agonising, eventually ends up with glorious or brilliant sunshine.
'There is some soul of goodness in things evil would men observingly distill it out.' (Shakespeare). In short, beyond the confines of obvious human realities or cognition lies transcendental experience or awareness. I hold these as inexorable articles of faith. Indeed, to believers, 'all things work together for good to them that love God, to them who are the called according to His purpose'(Romans 8:28).
January 18, 1984 was an outstanding landmark in my life. It was filled with mysteries. The more I reflect on it; the more I contemplate it; the more I meditate upon it, the more I discern on my cosmic screen perfectively coordinated uncanny events. All pointing ineluctably to a divine will, divine purpose, divine programme.
The divinity behind January 18, 1984, was manifestly displayed in full relief during the serial compilation of the so-called 'sins' of General Muhammadu Buhari, and the debunking of them seriatim with my personal experience as well as with copious incontroverted documents and numerous pieces of evidence. These would have been totally impossible without January 18, 1984.
I, therefore, feel inlay impelled to document in black and white for the very first time my divinely programmed meeting with General Muhammadu Buhari on January 18, 1984. The number of mysterious events before it as well as the mysterious events after it under the rubric, 'Buhari-David-West-Divinity.' The natural starting point is to repeat once again that before that date I did not know General Buhari from Adam. I'd never met him before
MYSTERY NO. 1:
A mysterious letter signed by 'Brigadier B. A. Idiagbon, Chief of Staff Supreme Headquarters' Ref. SHQ/COS/T.1 dated 6 January, 1984 prayed me to send my C.V. for '… national duty, and I expect that you would accept an invitation to serve (as Minister).' I'd never come across that name before.
MYSTERY NO. 2:
I showed the letter to my infant 11-year son, Tiriah. We were at the material time living alone at my university residence.
'Tiriah, would you like Dad to be Minister?'
'Yes.' Emphatic.
'Is it because you want to be the son of minister?'
'No. Have you not been commissioner before in Port Harcourt?(Education Commissioner under General Zamani Lekwot – 1975-79). Minister and Commissioner are the same.'
'Tiriah, are you sure you want me to be minister?'
(Reading the invitation letter). 'See, Dad, they want you to come and serve Nigeria. You should go, Dad, or do you want to stay here and write more articles?' I was totally nonplussed. All these from an 11-year old? My mind went to a Kalabari adage, 'When adult advise, it is a natural duty. But when infant advise it is an inspiration.' I decided to send my C.V. to Lagos.
MYSTERY NO. 3:
On January 17, 1984, at about 08.00pm, some security officers caught up with me at Port Harcourt. I was on a short visit to the 'Garden City.' They had been trying for some days to get in touch with me apparently. They'd already gone to my university residence on campus. They handed to me a letter from Lagos asking me to take me to go to Lagos and check in at the Federal Palace Hotel, Victoria Island. Accommodation had been arranged for me. Furthermore, that a vehicle will be sent to take me to Dodan Barracks morning of January 18, 1984. No specifics!
My relation (and very close to me) Dr. Mofia Akobo reflected with me. In fact I was staying with him in Port Harcourt. He was Federal Commissioner under General Murtala Muhammed. Dr. Akobo and I suspected that I'd been appointed as Minister. The papers had carried on front pages 'Ministers will be sworn in tomorrow' (January 18, 1984).
But how can I make it to Lagos on time? It was already past 10.00pm of January 17, 1984. We went to the manager of Nigeria Airways at his Moscow Road residence. He was so affable. But bad news! No Nigeria Airways flight in the morning of January 18, 1984 Port Harcourt to Lagos. It was disturbed sleep for me.
MYSTERY NO. 4:
After my early morning (5.00a.m.) devotional prayers and supplication, I dressed up (suited) and told Mofia that we should still go to the airport; 'Who knows?' We did. Another relation, Mr. Ojoye Mac-Barango, volunteered to accompany me to Lagos. Few minutes after 7.00am an 'Okada' flight from Calabar landed. En route Lagos. We rushed to enquire if there were seats for two. A most refreshing 'Yes.' Miracle. Ojoye and I were ticketed to Lagos.
We arrived Ikeja Airport about 8.30am. Hired taxi and made for Dodan Barracks. I'd not been there before. No business. The Federal Palace Hotel aspect of the invitation letter was obviously overtaken by events.
MYSTERY NO. 5:
We were naturally stopped at the gate by soldiers on duty. It was past 9.00am January 18, 1984. However, when I showed them the letter sent to me through security officers, we were allowed in through the security gate with palpable haste and urgency. The time was overlooking 10.00am. They left no one in doubt that they were much aware of an important event scheduled for that day, January 18, 1984.
MYSTERY NO. 6:
Ojoye and I didn't know where to go to in the wide space of Dodan Barracks; so we stood in the sun. Nobody around to ask questions. It was all so quiet. But after over 40 minutes under the burning sun with my suit (Ojoye was in loose Kalabari 'ETIBO') I decided to dare some solution to our agony. There was this bungalow not far from us with sliding glass doors. I made for it. Ojoye followed me behind.
Upon opening the door, not without some trepidation, we saw some men and women sitting down very well dressed and bubbling in gay mood. I quickly closed the door and went back to bake in the burning sun once again. It was so agonising. It was clear to me that I didn't belong to the room I ventured to open. Little did I know or suspect that the cheerful persons I saw were newly appointed ministers (and their families and friends) like me waiting to be sworn in as ministers of the government of the Federal Republic of Nigeria.
MYSTERY NO. 7:
After some more 10 to 15 minutes under the sun, burning biting sun, I saw the door to a hall across from us swing open. I later came to know that it was the Council Chamber. Some smartly dressed soldiers came out, about 15 or so. In front was this tall straight-like-needle officer. It was obvious that he was the new Head of State and Commander-in-Chief, General Muhammadu Buhari. I had some days back seen him on the TV. On January 01, 1984. The officers passed by us (none was familiar) to another room. For refreshment? No greetings. It was clear that they had just finished an important meeting. No tell-tale signs of any form.
MYSTERY NO. 8:
Among the last few officers to emerge from the Council Chamber was General Sani Abacha. The only officer I knew. We've been close when we both served in Rivers State (1975-79) in General Zamani Lekwot government. He was the Brigade Commander, I was Education Commissioner. Rivers State EXCO. We linked up again when he was GOC in Ibadan. But Sani also passed me by without any of the usual pleasantries. Only 'TAM.' And off he went to join the other officers. I was still baking in the sun (with my relation). Time? About 12.00 noon.
The officers later emerged again and made to the Council Chamber. I later came to know that they were members (Officers of the Supreme Military Council (SMC). Furthermore, that they've just finished a meeting of the SMC. Approved the list of Ministers and their respective portfolios. No media leaks.
MYSTERY NO. 9:
Protocol officers went to invite the cheerful men and women from the 'No-Go-Room.' I had earlier dared to open to the Council Chamber. The newly appointed ministers and their families and friends. Nobody asked me to accompany them. I stood in the sun again. Sweating agonizingly.
MYSTERY NO. 10:
After the last group of the cheery men and women had gone through the door of the Council Chamber, and just before the door was to be shut somebody recognised me, still baking in the sun (with my relation). He shouted: 'David-West. David-West, come in quickly.' I hurried (with Ojoye) to the door. We went in. The door was shut. The very last into the Council Chamber.
It was another miracle. Number Two. The first (No.1) Miracle was the unbooked 'Okada' flight to Lagos from Port Harcourt. Morning of January 18, 1984, Under MYSTERY NO.4.
MYSTERY NO. 11:
When 1 got into the Council Chamber, all the other Ministers to be sworn-in were comfortably seated. Their respective families and friends were all seated directly behind them. As 1 was being taken to my seat, the only one vacant, 1 noticed two things in relation to the already seated ministers. One, each of them had a microphone positioned in front of them. Two, each of them had a piece of while paper before them (in front of the microphone). Some things were written on each one of them. I was curious. But no anxiety to peep.
MYSTERY NO. 12:
Behind the vacant seat, the one meant for me, I noticed a number of microphone-recorder holding media men and women. Quite a number. At least a dozen of them black (Africa) as well as white (European, Foreign Press). The only seat with so many anxious-looking media men and women apparently anxious for a scoop. It is significant to mention that among the media persons, the one I readily recognised was Mr. Lindsay Barret. We'd discussed some of my Essays or Articles before.
I was seated. I was asked to turn face-up the piece of white paper before me. I did. Written on it: 'Minister of Petroleum and Energy.' My portfolio? Shock.
I then realised that the pieces of white paper in front of the other ministers were also their respective portfolios. I was simply dumbfounded. I had expected 'Education' which I had earlier (1975-79) headed as Commissioner in Rivers State under General Zamani Lekwot. And during my commissionership the Rivers State Government education programmes were rated among the best in the Federation by the Federal Government: 'UPE: PAT ON BACK FOR RSG: Ali sees wonderful progress' (NIGERIAN TIDE May 11, 1976 front page).
I must stress, however, that my being flabbergasted over my assigned ministerial portfolio did not even sink my spirit. Not at all. I love challenges. They bring out the best in me. I went into innermost deep meditation to discern a divine purpose. Indeed, I eventually found it. Glory to The Almighty.
Now, back to the scoop-hunting media personalities. They were obviously aware that the yet to be occupied seat was that for Petroleum. The mainstay of the national economy. As soon as I turned up the piece of white paper and discovered my ministerial portfolio, they literally bombarded me with questions. Each one trying to get the best scoop from me.
SAMPLE: 'Honourable Minister, what will be the focus of your oil policy?' 'Your Excellency, oil is the core of the Nigeria economy will you support nationalization?' etc. etc.
RESPONSE: 'Ladies and gentlemen please I've not even been sworn-in yet. Please give me time. Ample time.'
After the swearing-in, the Head of State and Commander-in-Chief, General Buhari, asked four of the ministers to see him in his office. Minister of Defence (General Domkat Bali),Minister of External Affairs (Dr. Gambari), Minister of Finance (Dr. Soleye), Minister of Petroleum and Energy (Professor David-West). I was the last to go up.
First, I thanked him for the honour and the privilege. Secondly, I said that I don't remember ever meeting him before JANUARY 18, 1984.
Finally, he told me why I was the choice for Petroleum and Energy. Very vital and crucial to the economy. His words were most humbling. Singular confidence. Then, the final 'divinely-directed' words (I so believe) of challenge as well as trust: 'I will not interfere.'
I mentioned to him the role played by 11-year son, Tiriah, in encouraging me to accept the kind invitation to serve. 'Divine-prompting. Professor, I will like to see him' (with smiles).
The time was about 6.00pm. Engr. Kufeji, representing the MD of NNPC, Mr. Festus Marinho (who was out of the country) took me to the Federal Palace Hotel. Festus and I were both 'KUTITES' – Kuti Hall - as undergraduates at Ibadan in 1956. It was too late for my already scheduled maiden meeting with the NNPC management staff who were already assembled at the NNPC Headquarters Falomo.
The following morning, January 19, 1984. Kufeji, came for me at the hotel. We went to Falomo where I addressed the management staff. It was very short but unequivocal: Discipline. Punctuality. Hard work. After the meeting, I took off to Port Harcourt again to finalise arrangement for my maternal aunt's funeral. The Head of State, General Buhari, kindly gave me two weeks for this. He was visibly sorry.
THE LINDSAY BARRET'S SCOOP:
Lindsay followed me to the Federal Palace Hotel after the swearing-in. He was lucky to have the very first scoop from me for the BBC. He jokingly shared with me the ingenious strategy he used to be the first media person (journalist) to have the scoop.
MYSTERY NO. 13:
'TABULA RASA AND JEHOVAH ORI'
This was easily the peak of the serially juxtaposed chronicle of the miracles surrounding my appointment by General Muhammadu Buhari as Minister of Petroleum and Energy. First and foremost, I was completely blank (void) on Petroleum matters. The only fleeting contact with hydrocarbons were two undergraduate (Michigan State University, U.S.A.) courses on Hydrocarbon Chemistry 1959. And a Biochemistry course at Yale Graduate School 1961.
Secondly, the more I reflected on the enormity of my ministerial portfolio in the context of the national economy (over 90% of our total foreign receipts and over 80% of the national budget) especially from the void of my background on petroleum matters the more I got concerned. But certainly not afraid of the heavy state (national) responsibility put on my shoulders so to say. The absence of fear was not because I was overly self-confident. Far from it. But because judging from subsequent mysteries, leading to this peak my faith was buoyed up to believe in divine purpose.
I regularly ruminated on my Religio-Philosophical mantra: 'The Almighty will not give us responsibility for which he had not ab initio provided the strength for it. 'I therefore regularly prayed and meditated supplicating with The Almighty Jehovah Ori, to issue the Divine Order: 'LET THERE BE LIGHT.' Yes, to divinely illuminate me on petroleum matters. Knowledge. Wisdom. Direction. Positive policies. Dynamism. Impact. They were not passive prayers with hands folded and relaxing on an easy chair. 'Heaven helps those who help themselves.' Trite. I made many trips to meditate and pray at Lourdes, France; also to Rome, St. Peter's Basilica. Why Lourdes? Why Rome? I am Protestant (Anglican. Over 100 years of family Anglicanism). Another mystery.
I also decided to buy books on oil - different aspects. Read them avidly and enthusiastically. I quickly identified some very bright staff of the NNPC. They became my informal 'tutors' especially on the international oil politics (OPEC etc.). The crop I identified as 'ETHICALS' briefed me regularly on corrupt practices on oil. I must acknowledge the voluntary assistance of the MD of Mobil, Mr. Carl Burnet. He gave me some books on oil. I must also specially acknowledge the knowledge on oil I tapped during my briefing sessions with the Head of State, General Buhari. He was himself oil minister before. It was so refreshing, so reassuring, so rewarding listening attentively to him. A veritable encyclopedia on oil matters. I was that lucky.
Furthermore, I also watched some films on OPEC. Very rewarding I 'researched' into the 'personality profile' of the most prominent OPEC ministers. And before my maiden OPEC meeting, I visited some of the. Gulf countries: Saudi Arabia. Kuwait. Fruitful. Rewarding. It did not take very long before I began to most refreshingly feel within me that I was on the right track Tremendous goodwill at home and abroad. I particularly acknowledge, the Saudi Oil Minister, Sheik Zaki Yamani, 'Mr. OPEC.' We became very close.
Before every OPEC meeting, we usually had in-house brainstorming sessions at Falomo on the agenda to confront us at Geneva or Vienna. Like 'Tutorials' in the university. Most exciting indeed. Thus, from void by His Divine Grace, I became knowledgeable (LIGHT) in oil matters – dynamics and politics.
Few highlights. Exhaustive list in the main book. 'Who Really Is General Muhammadu Buhari?'
Home Front:
• DISCIPLINE. Solid discipline. Leadership by Example. I checked in at Falomo latest 7.20a.m worked 7-day week. And with a salary of N16,000.00 per month as a Minister. This was less than my salary at the University as Professor/Consultant, which was N18,000.00 a month.
• Progressive oil policies
• War Against Corruption: Illegal bunkering and other smart practices. A top of the list priority.
• Petrochemical and Refinery (the 4th Port Harcourt Refinery).
• LNG. 'Exhumed' and invigorated. New NNPC organogram: Six semi autonomous sectors.
• No fuel importation. In fact we exported fuel. 'Off-shore refining programme.'
Foreign Front (OPEC):
• POSITIVE IMPACT.
• Nigeria represented Africa on the powerful OPEC Executive Council.
• Nigeria, voted in as member of the OPEC vital Differentials Committee.
• Solo increase of production quota for Nigeria (1984). Unbeaten OPEC record since its formation in 1960.
• I was over-looking the OPEC Presidency before redeployment to Ministry of Mines, Power and Steel (Local politics?) I have a handwritten note from the Saudi Arabia Oil Minister, Sheikh Zaki Yamani. My staff (OPEC delegate) saw it too. I showed them.
CONTINENTAL
The Initiation and the formation of the African Petroleum Producer Association (APPA).
In conclusion, this panoramic view of my contact with General Muhammadu Buhari; and the honour and the privilege to work under him, as Minister of Petroleum and Energy, to serve the fatherland clearly convince me of a divine purpose. I therefore say emphatically, 'To God be the glory.' And 1 constantly pray that may Allah continue to bless General Buhari, undimming ethical light and an untiring patriot. The best around for our envisioned El Dorado. I attest from close personal experience. Amen .
• Professor Tam David-West, Ibadan, April 2010.