Protests: Senate to investigate food diversions in IDP camps – Saraki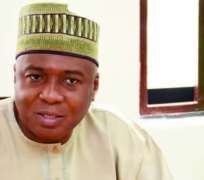 The Senate will investigate the severe hunger crisis in Internally Displaced Persons camps in the North-East, President of the Senate, Dr Bukola Saraki, has said.
This is contained in a statement signed by Mr Yusuph Olaniyonu, Special Adviser to the Senate President on Media and Publicity and made available to newsmen on Saturday in Abuja.
The statement said Saraki was reacting to protests by hundreds of women from IDP camps in Borno on Thursday, which led to the barricade of the Maiduguri-Kano/Jos Road.
It described the development as `desperate' and reiterated Saraki's calls for better coordination amongst government and international aid agencies.
It emphasised the need for Nigeria to quickly operationalise a more effective and efficient humanitarian response infrastructure to address the situation.
Saraki called on the Nigeria Police, the Economic and Financial Crimes Commission (EFCC) and other law enforcement agencies to quickly move to investigate the diversion of food deliveries.
He said that government officials and contractors should be held to account for the mysterious disappearance of truck loads of provisions intended for the IDP camps.
'Anyone that is found to be diverting the food aid deliveries should be investigated and brought to book if investigations prove their participation in these vicious schemes.
'Profiting from a complex humanitarian crisis is unacceptable.
'The people of the North-East have suffered enough indignities in the past four years from the marauding Boko Haram terrorists and stealing food meant for starving children, only adds insult to injury,' it stated. - Punch.