Buhari's Insensitivity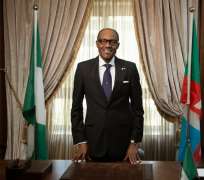 It was with grieve I read the news of some people that were slaughtered by Fulani vampires this morning in a Seminary. This however is not the first crime that would be perpetuated by the Fulani vampires without the government responding to it. This is a government that swore to protect the lives and properties of the people, but, under the same administration, our best and brightest people are dying.
And, the most disheartening part of it is that, the government have chosen to keep mute on the killings being perpetuated by the Fulani vampires not to talk of swinging into action. It is still fresh in our minds how an Igbo girl was beheaded in Kano and the video circulated online by gullible Muslim youths just for what they tagged blasphemy. I can also remembered vividly how one Eunice was killed in hot-blood by Fulani vampires just for propagating her own belief in Abuja. And, up till this very moment, those that were arrested in connection to the crime have not been charged to the court of law by the Police.
But, it is so unfortunate that both the cyberspace, the human rights societies and majority of Nigerians decided not to speak on the matter then because of their belief in a government that have chosen to continue watching as her citizens are being slaughtered helplessly on a daily basis. In fact, there was no word from Aso Villa until a week after the incidence after pressures from few Nigerians including myself that has been tagged 'the unheard voice' by some elements. All this government could do is to circulate the names of 'looters' who have looted this nation dry and shift attention from the primary objective they were voted in for.
And, for a government to be silence in the face of killings by some lunatic is to be complicit in the crime. This government has not only given Fulani vampires the confidence to kill without fear of reprimand, he has not only being bias towards other tribes, he has now turned this nation to a place where people can be slaughtered in broad day light by his some vampires. Recently, a man was arrested, detained and arraigned in Ogun State for naming his dog 'Buhari' and for walking the dog in their 'hausa dominated neighbourhood'.
According to reports, the man was charged to court because his 'provocative' act could cause a breach of peace because 'an average northerner would feel bad over such a thing'. The trouble we are facing in Nigeria is that the evil spirit of violence that has a chokehold on our society is irreplaceable. The evil spirit has led to the waste of innocent peoples' blood and has assumed a proprietary right over our lives.
Violence is Nigeria is caused as a result of cultivated attitude of some vampires amongst us who feels they can slaughter other people at will with impunity because the law has been restrain for them just to carry out their mindless act. We read how one Mrs. Bridget Agbahime was murdered in hot-blood without anyone talking about it.
We also read about the four people that were killed in Niger State in May this year without the Presidency doing anything about it. Just three days ago, eight people were burnt to death in Zamfara State and up till this very moment, the government have not release any statement commiserating with those that were killed not to talk of ordering the Security agents to action and many more. But, the government was so quick to send a message of condolence to those that died in the earth-quake which occurred in Italy, but, the same government have chosen to keep mute on the killing being perpetuated under her roof.
The government have given the Fulani vampires the temerity to indulge in the habit of killing whosoever makes them feel bad by failing to address the evil being perpetuated by these vampires. Amidst all the crises facing us as a nation, all what Buhari could do was to forward an ' Emergency Economic Stabilisation Bill 2016' to the National Assembly for passage into law so that he would totally become a dictator. I am however calling on all Nigerian to rise up and see it as a responsibility to defend their territories and lives against this vampires because VIOLENCE BEGETS VIOLENCE.
The truth is that our government have failed to protect our lives against these invaders, this is however the time for us to rise in defence of our lives and territories. We cannot claim to live in a free society if the best we do is contain ourselves out of fear of what certain vampires in our midst can do to us without defending ourselves. Freedom is not freedom if its limits are not tested every now and then. It is now left to all of us to arm ourselves to the teeth and rise in defence of our territory against marauding vampires' malevolent threats. There is no other word to describe the Buhari-led government than to say that this government is a disaster. May God Bless And Unite The Federal Republic of Nigeria!!!
Disclaimer:

"The views/contents expressed in this article are the sole responsibility of

Kazeem Olalekan Israel GCAF

and do not necessarily reflect those of The Nigerian Voice. The Nigerian Voice will not be responsible or liable for any inaccurate or incorrect statements contained in this article."