Fulani herdsmen invade another Enugu community, kill Catholic Seminarian …Gov. Ugwuanyi condemns attack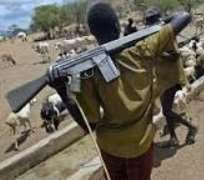 The people of community of Ndiagu, Attakwu, Akegbe-Ugwu in Nkanu-West Local Government Area of Enugu State, were, Thursday morning, thrown into mourning following the invasion by over 50 Fulani herdsmen armed with machetes, who slaughtered a Catholic Seminarian, Lazarus Nwafor.
Four members of the Ogbodo Nwarum family, where Nwafor, the Seminarian, who finished his apostolic work at St. Patrick Catholic Church, Ndiagu, Attakwu, last Tuesday, was a tenant, sustained severe machete cuts from the rampaging Fulani herdsmen who slit the stomach of a six-month  pregnant Mrs. Nwarum in the operation that started at about 2.15a.m
Until his death, Nwafor, was a seminarian at the Catholic Spiritan International School of Theology, CSIST, Attakwu.
The injured were in critical conditions at the Mother of Christ Teaching Hospital and Parklane Teaching Hospital Enugu.
Meanwhile, a visibly angry Gov. Ifeanyi Ugwuanyi of Enugu State who visited the Ndiagu Attakwu community where the attack occurred condemned the dastardly act in its entirety.
He vowed that those who pepertrated the heinous act would not go unpunished, adding his administration would not tolerate the wanton destruction of lives and property in the state by the herdsmen.
The governor stormed the hersdmen settlement inside a thick forest apparently to express his displeasure over the heinous act, only to discover that the herdsmen had fled.
The governor prayed for the repose of the seminarian and quick recovery of the survivors.
On his own part, the Catholic Bishop of Enugu, Dr. C.V.C Onaga who visited the grief-stricken community, also condemned the attack and expressed sadness over the incident.
He prayed for peace and unity of the country, calling for a permanent solution to the menace of the herdsmen in the country.
The governor has summoned an emergency meeting with the security agencies and Fulani community in the state today at the Government House, Enugu. – TheCitizen .