SIGNIFICANT GAINS FOR CONSERVATIVES IN WALES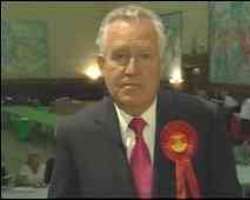 Labour emphatically regained their former stronghold Blaenau Gwent, which was lost in 2005 to an independent after an internal party row.
The Lib Dems have held Ceredigion and Cardiff Central but failed to gain Swansea West from Labour.
Plaid Cymru has also had its fair share of disappointment.
For the two main UK parties, the results in Wales were looking somewhat rosier.
Welsh Labour will be significantly relieved to have hung on in several seats which had been targeted by the other parties.
Glyn Davies, the newly elected Conservative MP for Montgomeryshire says he became a candidate not expected to win
Although they saw much reduced majorities in seats like Bridgend, Gower and Alyn and Deeside, they fought off Liberal Democrat challenges in Newport East and Swansea West, as well as Plaid Cymru on Ynys Mon.
But it is the emphatic return of Blaenau Gwent to the Labour fold from independent Dai Davies which will give the party the most satisfaction, despite a fall in the party's share of the vote of around seven per cent.
The Conservatives hit most of of their targets in Wales, including key marginals Cardiff North and the Vale of Glamorgan, the Aberconwy seat in the north, and the prize of Montgomeryshire for former AM Glyn Davies. The swing to them was around five per cent across Wales.
After his election to Aberconwy, Guto Bebb told BBC Wales how his party the Tories were making "very significant gains in Wales".
Peter Hain said Labour's results were much better than many predicted
"We have actually worked extremely hard. We have fought every single council seat that's been going over the last six or seven years and I think we have convinced the people of this seat that we are serious about representing this constituency," he added.
Asked about the possibility of cooperating with other parties in the event of a hung parliament, he said: "We have a duty if there is a hung parliament to see if a form of government can be put together which will serve the interests of the people of this country."
In defiant form, Peter Hain said Labour were doing well in view of the prediction of a trouncing in Wales and across the UK. Credit to my opponent – he won fair and square. If you stand in elections you have to be willing to accept defeat as well as victory and this was my time
Lembit Opik
He said Labour's results in Wales were much better than many had predicted, particularly following what he called "bad" county council elections in 2008, and "dreadful" European election results last year.
He credited an "energetic and active" Labour campaign in Wales for Labour's performance.
Both Plaid Cymru and the Liberal Democrats had difficult nights, missing out on seats that they had targeted intensively during the campaign.
The one bright spot for the Liberal Democrats was a substantial increase in their majority in Ceredigion, at Plaid Cymru's expense, but there was bitter disappointment in Swansea West and Newport East, as well as the loss of Lembit Opik's seat in Montgomeryshire.
In what will surely come as a huge blow to the Lib Dems, Lembit Opik reacted to losing his Montgomeryshire seat saying: "I cannot really analyse it just after the announcement, but I have been surprised.
"Credit to my opponent – he won fair and square. If you stand in elections you have to be willing to accept defeat as well as victory and this was my time.
"Perhaps it was my brand of politics which people weren't to keen on. Perhaps it was a big surge to the Conservatives." I've lost an election by 56 votes and I can tell you winning is much much better than losing
Jonathan Evans
Speaking to BBC Wales after defeating Mr Opik, Glyn Davies said: "It's something of a shock, really. But it's a great result for me, and a great result for the team that's been working for me, and we are pretty thrilled about it."
Plaid Cymru figures expressed real disappointment at the party's performance in terms of gaining seats.
Although their share of the vote held up compared to 2005, they failed to take either Ynys Mon or Llanelli where they had hoped for gains at Labour's expense, and went backwards in terms of trying to reclaim Ceredigion from the Lib Dems.
They also came fourth in Aberconwy, a seat they hold in the Welsh assembly. Meanwhile, senior figures in Plaid Cymru have also had their fair share of disappointment at their failure to reclaim Ceredigion from the Lib Dems, and a big fall in their share of the vote on Ynys Mon, which was held by Labour.
Speaking on BBC Radio Wales on Friday morning, Plaid Cymru AM Nerys Evans said: "We have been squeezed by the context of the UK general election but we are happy with our campaign.
"We have had major swings in Labour heartlands without winning actual seats. There are glimmers of hope when looking at the assembly elections next year.
"It's been good to keep our three seats. Our MPs will now play a crucial role in this election.
"We would have liked to have made more gains. We have got to look at the broader picture – in the UK context, with the TV debates with the three UK leaders.
"We have a new MP in Jonathan Edwards in Carmarthenshire East and gained Arfon."
One of the most eagerly awaited seats and the last to call in Wales was Cardiff North where Labour candidate Julie Morgan had predicted she could lose to the Conservative Jonathan Evans by 194 votes.
Paying tribute to his predecessor, he told BBC Wales: "I've lost an election by 56 votes and I can tell you winning is much much better than losing. The reality is that Julie Morgan has been an MP here for 13 years and she has done all the constituency cases."
Meanwhile, Welsh Secretary and Neath MP Peter Hain has called for an investigation into the Cardiff North declaration where an additional recount was refused.
A Welsh Conservative spokesman: "We are satisfied that everything was done by the rules. The returning officer declared the result."