APC: Primary Still To Hold Despite Perceived Internal Rift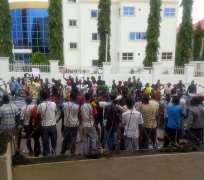 The Ondo state chapter, All Progressive Congress chairman, Isaac Kekemeke, on Tuesday confirmed that the party's state gubernatorial primary will still hold on August 27.
He described the current rift within the state chapter of the party as "family affair'' that would be resolved within.
Kekemeke affirmed that he had not endorsed and would not impose any candidate but rather the over 3000 delegates would be allowed to choose the aspirant of their choice.
"I don't have a preferred candidate."
He said the primary will be conducted by the leadership of the party at the national level without bias and there will be no basis for manipulation by him or anyone.
"I have no specific role to play in the conduct of the primary."
"I know that the leadership of our great party at the national level has put in place mechanism to ensure free and fair conduct of the governorship primary on Saturday, Aug. 27."
He said that he was sure the party would be victorious come November.
The National Deputy Chairman North, APC, Lawal Suhaib said that the differences within the party at the state level is a family issue and as such would resolved as a family issue and put the party's victory first.