PETER ROBINSON LOSES EAST BELFAST TO LONG IN ELECTION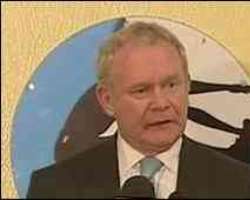 Robinson: 'Preferred not to stand'
First minister and DUP leader Peter Robinson's entire future in politics is under threat after he lost the Westminster seat he held for 31 years.
Alliance deputy leader Naomi Long is the new MP for East Belfast.
Both main unionist leaders have suffered defeat in the election as Sir Reg Empey lost in South Antrim.
The Fermanagh/South Tyrone count was suspended at 0430 BST after two recounts in which Michelle Gildernew and Rodney Connor were neck and neck.
After the second recount, Mrs Gildernew, Sinn Fein, was just two votes ahead of independent unionist unity candidate Rodney Connor. She had 21,300 votes to Mr Connor's 21,298.
Counting will begin again at 1100 BST on Friday.
Meanwhile, despite his party's pact with the Conservatives, Ulster Unionist leader Sir Reg Empey has lost to William McCrea, DUP, in South Antrim.
Senior Ulster Unionist David McNarry said Sir Reg was "finished" as party leader. But Mr McNarry said he was "not in the stakes for leadership", turning the focus, instead, on unionist unity.
In a shock turnaround, DUP leader Mr Robinson's vote fell from a 6,000 majority in 2005. This time, he took 11,306 votes and Ms Long won with 12,839 votes.
His wife, Iris Robinson's resignation and questions over expenses and land deals may have played a role in his defeat.
Speaking after the result was announced, Mr Robinson said he would have "preferred not to stand" in East Belfast.
"I have a job to complete with my mandate at the Assembly and I will continue to carry out that important work," he said moments after the shock result was announced.
Naomi Long wins east Belfast
Ms Long said her election was a positive message from the people of East Belfast
"They want stability and they want peace and I think that those are positive messages coming not only from people who voted for me but also those who voted for the former incumbent in that seat they want to move forward," she said.
"I think we need to take that very seriously and make sure that's exactly what we deliver."
In better news for the DUP, in Antrim North, Ian Paisley Jnr polled 19,672 votes, winning the seat comfortably despite the contest from TUV leader Jim Allister.
BBC NI political editor Mark Devenport said the shock defeat "damages Mr Robinson's stock".
"None of the DUP MPs who we have been speaking to on our election special wishes to be Brutus wielding his dagger, but tonight's results increases the standing of the Paisley and potentially the Dodds dynasties in the party.
"So who will be in charge of any negotiations with the future would-be Prime Ministers?"
Naomi Long is the first elected Alliance MP. Her vote almost quadrupled in this election.
Martin McGuinness held his Mid-Ulster seat
Overall the TUV does not appear to have caused significant damage to the DUP vote.
And the Ulster Unionists' pact with the Conservatives has not produced the fightback they had hoped for.
Sinn Fein leader Gerry Adams has retained his Belfast West seat polling 22,840 votes
Bairbre de Brun, SF, said the recent bad publicity surrounding Gerry Adams has not had any effect on his vote. The turnout in his constituency is down by almost 14% but Mr Adams' share of the vote is slightly up.
The SDLP saw off the Sinn Fein challenge from Stormont Education Minister Caitriona Ruane in South Down. SDLP leader Margaret Ritchie polled 20,648 votes, taking over the mantle from party veteran Eddie McGrady.
In Londonderry, the count was suspended after a pipe bomb was left at the Templemore sports complex. But it later resumed and Mark Durkan was returned as Foyle MP.
In other developments:
• Gregory Campbell, DUP, holds his seat in East Londonderry;
• Conor Murphy, Sinn Fein, holds his seat in Newry and Armagh;
• Jim Shannon, DUP, takes the Strangford seat vacated by former party colleague Iris Robinson;
• Deputy First Minister Martin McGuinness, Sinn Fein, retains his seat in Mid Ulster;
• Nigel Dodds, DUP, retains his seat in North Belfast;
• Dr Alasdair McDonnell, SDLP, holds his South Belfast seat;
• Lady Sylvia Hermon, standing as an independent, wins the North Down seat;
• Sinn Fein veteran Pat Doherty retains his West Tyrone seat;
• David Simpson, DUP, retains his Upper Bann seat;
• Jeffrey Donaldson, DUP, holds his Lagan Valley seat;
• Sammy Wilson, DUP, holds his seat in East Antrim;
Seventeen out of the 18 Westminster seats have now been declared. The DUP have eight, Sinn Fein have four, the SDLP have three, the Alliance Party has one seat and one seat has been won by the independent, Lady Hermon.