ELECTION 2010: CAMERON SAYS LABOUR HAVE 'LOST MANDATE'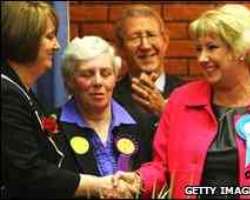 Conservative leader David Cameron said it was "clear" that Labour had lost their right to power, after the Tories gained the most seats in the election.
He promised to act in "the national interest" to bring "strong, stable, decisive and good" leadership, as the UK appeared set for a hung parliament.
The Tories have 291 seats and Labour have 248 MPs, with 37 seats to declare. In all 326 are needed for a majority.
Mr Cameron held his seat with 33,973 votes, gaining an increased majority.
He also achieved a 6.3% swing from the Lib Dems in Witney.
Uncertainty remains as to who will form the next government.
Gordon Brown is still prime minister, however, and may now begin coalition talks with the Lib Dems.
CONSERVATIVE RESULTS
Tories have most seats but not a majority
David Cameron says Labour have lost their "mandate" to govern
Conservative candidate beats ex-Home Secretary Jacqui Smith
Tories go from three to eight MPs in Wales
Only one Conservative MP in Scotland
Among the Conservatives' successes was a victory in Redditch, where Karen Lumley defeated the former Home Secretary Jacqui Smith, with a majority of 5,821 on a swing of 9.2%.
They also won in Richmond Park in south-west London, where Zac Goldsmith polled 4,091 more votes than former Lib Dem MP Susan Kramer.
The Conservatives more than doubled their tally of MPs in Wales, taking four seats from Labour and increasing their representation at Westminster from three to eight.
But in Scotland, the Tories have only one MP – David Mundell, who held Dumfriesshire, Clydesdale and Tweeddale.
"Nationally we have to wait for the full results to come out, but I believe it is already clear that the Labour government has lost its mandate to govern our country," Mr Cameron said after winning his seat.
"We will stand ready to do all that we can to help bring that leadership, to help bring strong, stable, decisive and good government for our country."
He said he would act in "the national interest – to do what is right for our country, to make sure we have that government, have that stability, take the right decisions".
But the Welsh Secretary, Peter Hain, said voters had shown "they are not willing to trust David Cameron and the Conservatives with government on their own".
"They are not willing to have a majority Labour government either," he conceded to Sky News.
Labour's Jacqui Smith (L) was defeated by Tory candidate Karen Lumley
"Therefore, they are expecting a partnership government and therefore I would hope that the Liberal Democrats would talk to the prime minister and talk to us as Labour cabinet ministers, to see whether we can get a partnership government going, as we have done in Wales."
Shadow schools secretary Michael Gove did not rule out talks with the Liberal Democrats and said Mr Cameron was "happy to talk" to other parties so there was a "strong and stable" Conservative-led government.
And shadow work and pensions secretary Theresa May said Labour had "clearly lost" the election.
"Labour has now lost more seats than they've lost at any general election since 1931, and we, the Conservative Party, have gained more seats at any general election since 1931," she told BBC Radio 4's Today programme.