FG to start mass construction of houses in 2016 – Fashola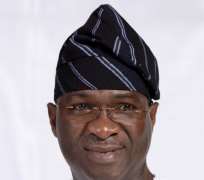 The Minister of Power, Works and Housing, Mr. Babatunde Raji Fashola on Friday said the Federal Government has concluded plans to commence construction of homes across the six geopolitical zones of the country in fourth quarter of this year.
Fashola who spoke at the first City People Real Estate, and Housing Lecture, held in Lagos stressed the need to overhaul the nation's mortgage system to make home ownership easy in the country.
He said,' Twenty Four states have given us the land requested to start. Our staff are working tirelessly to inspect these sites, survey them, prepare layout design as some are working on preparing tenders towards awards of contract.
'We hope to start construction sometime in the 4th Quarter. But the success of our plan will not be defined in the first few years by how many houses we build.'
On vexed issue of ownership he explained that if there is good credit system,'people who get paid weekly, monthly or yearly, should pay their rent weekly, monthly or yearly.
'It will relieve a lot of pressure on ordinary working people, it will allow increased occupancy of many flats that are now empty across our country because people cannot pay multiple year advance rent from weekly or monthly incomes received in arrears.
'The need for credit reinforces my belief in the resort to the time tested use of mortgages as the best method for increasing access to housing for the vast majority of Nigerians; if we can build the houses, and I will shortly come to the point of what my thoughts are about the way to build.'
According to the minister whose lecture dwelt on how to move the housing sector forward, the  sector has not been accorded adequate attention in the country, saying in the country's post-independence history, only two mass housing initiatives readily come to mind.
'The  first one is the Lateef Jakande initiative which was localized to Lagos and the other is the Shehu Shagari initiative which was national.
'One common thread they share is that they have not been replicated or continued - so sustainability is a problem.
'Another commonality was that they occurred at a time when our national currency was very strong. The Naira traded almost at parity with the Dollar which is our currency of reserve.'