NIGERIANS SHOULD TACKLE ENERGY CRISIS HEADS ON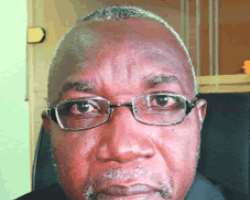 Adegbenro
Professor Oluwole Adegbenro, a lecturer in the Department of Electrical Engineering, University of Lagos, is the Director of National Centre for Energy Efficiency and Conservation (NCEEC) for University of Lagos which is a baby institute of the Energy Commission of Nigeria (ECN).
Adegbenro says that the lack of energy to power industries and attain a sustainable economic development has been a major cause why the nation pays a lot for its consumption, citing the need to invest in manpower development through the training of people for energy development.
According to him, until the nation adopts an attitudinal change in energy efficiency and conservation, it will continue to witness high cost of consumption.
He further decried the poor level of research development that could bring about constant energy supply and ginger the economy to grow at a competitive level when compared with others around the globe.
The director further stated that energy conservation ensures sustainable economic development of the country by bringing about reduction of energy cost, accelerates production of goods and services, as businesses would thrive on improved access to energy supply. Noting that without its conservation, manufacturers tend to pass the cost to the consumers.
He recently spoke to Daily Sun on the establishment of the institute, the importance of energy conservation, how it can help the country grow, the challenges facing energy research, assessment of Nigerian energy utilization and the N500 billion power fund.
Excerpts:
Origin of NCEEC
The centre is a baby of Energy Commission of Nigeria. They taught it fit to have a place like this, in order to be part of the solution to the problem of inadequacy of energy in Nigeria. Realizing that as the people normally say, money saved is money earned. If you are able to save some money it is as good as earning some money because it is available for you to use. So, with such kind of right thinking, this centre was set up.
More so it is a practice all over the world, people have realized it all over the world that energy efficiency and conservation has a key role to play in energy delivering in such a way that if you inculcate this in the people; teach them how to save energy, inculcate it in children to know that when they are not using any appliance it should be turned off. That is why the switch was invented not for the operation. Because what we see today in most homes is that when light is on, the airconditioner, television are not being used, they are left on as if it is running for free. As you know there is no free light, we pay a lot for energy.
In terms of environmental problem, even in terms of the ability to pay for it when we have an economy that is not as booming as ours, when we have some money and a chunk of it goes into energy. One of the reasons why we have problems with energy is that we are not paying appropriate price for energy in this country. If it were so, people would be careful about how they use energy. Imagin the amount of gasoline that is wasted on traffic when you are idling and the traffic is not moving.
People won't make many unnecessary journeys if they were really paying adequately for the fuel. The coming of mobile phones has made it easier for people to embark on lesser journeys. But even then, just because energy is cheap, you can fuel your car at a low rate and make a journey that you can as well discuss on phone.
Making the public to imbibe the culture of energy conservation
It is by education and persuasion of the public. For example, visiting to enlighten the pupils in elementary schools, telling them that each they go to toilet in the night, they should turn on the light and after using the toilet, turn it off. By that time nobody will be using it, that saves some energy. By the time we keep on telling them on the repercussions of not saving energy. It is not only how much your parents pay but what will happen to the future of the world itself. The fact that we use a lot of energy, it is a contributing factor to all the climatic changes that we seem to be having and these are not pleasant.
Your vision as the head of the Commission
Yes! One of the things I will want is that young graduates and engineers be trained. This will show the world that we have what it takes to compete with the rest of the world when it comes to research, training and finding out new things that will benefit the world. In newspapers today we were told that there was a report that the output of research in Nigeria is not at par with the size of Nigeria.
In other word, even though we are supposed to be ranked about third in Africa but compared to our population it is still very little. With such a large population and much money in the system, we should be doing more. So, I am trying to encourage young graduates, in fact what I have done is to recruit young fresh graduates from the universities, give them the training and the facilities which government was able to provide for us. Give them the tools and equipment that will motivate them.
Challenges facing energy research in Nigeria
One of the challenges is the need for manpower development through the training of people for energy development. For example, in the area of renewable energy sources, we need more people to fabricate these things, to show people how it works and to maintain them to keep it working.
Even in our energy sector, manpower need is not adequate for the size of the country and its energy needs. Due research into new materials is required, making sure the materials that were invented and funded are not always adequate with the improvement. But in the midst of research you can still find materials that can do the job better than they are doing it now. These are the kind of things that I want the youths to know that what is being done abroad, they can also do here.
We live in the same world, we are subject to the same environmental problems and the mental capacity is just as adequate as that of any person. By making them to get what they need and making them happy with what they are doing, that will make them go a long way to producing a good result that is very outstanding.
Solution to the incessant power failure
There are many energy problems, those ones that are internal problems and those ones that are created by external means and if you put all these together they might be responsible. For example if you believe that we need so many mega watts of energy, we can't get it over night, it takes a long time. Environmental impact assessment has to be done. You don't just site power station somewhere or a dam somewhere just because you need energy.
What we do in the main time is to say lets have distributed generation. Let this person have small generating station that you can put in your backyard. I mean that won't be a problem on its own except for the fact that the environmental pollution and noise pollutions that is filled everywhere; in the market place, it makes life unbearable to a lot of people. In fact, what Nigeria is generating now is probably what the government said it is after.
Virtually every home has a generating set that is trying to make up for the one that is supposed to be made available by PHCN. These generators are made available in the country, realizing that we cannot meet all the demands by a central generating station, they allowed people to use their own generating system.
Do you think the use of generators is best in the country?
Definitely, it is not. What I am saying is that the rate of population is high. Everybody is building a house, virtually every place opened is up in Lagos. To build houses, they all require electricity. In the main time, the process of building an electricity station is not just going to the market to buy generating set, it takes a lot of planning. In fact the other time government bought generating sets from China and transformer from another country, to put them together becomes a problem because they were different standards.
Will CBN's N500 billion power fund be enough to resuscitate power?
Base on my position, any amount of money that is spent in ameliorating the situation will be welcomed. We really don't know how they based their calculation and find out that N500 billion is adequate. But until one knows the basis for the calculation, we may take it that it is the money that has been made available to be approved for them.
But what they need to do is to know that they need to spend it judiciously, and doing proper study not just the fire bridge approach whereby you just put such money in use, next to no time it becomes inadequate again.