How Bribery Scandal Saved Gov. Ikpeazu From Sack; CJN Angry With Judges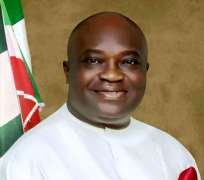 Following Pointblanknews.com expose of a $4million bribe from Oil Baron,
Chief Arthur Eze to Judges, the Appeal Court has reversed an earlier plan
to sack Governor Okezie Ikpeazu of Abia State.
An earlier report by Pointblanknews.com had detailed how Chief Eze,
boasting of his ability to remove the Abia Governor, gave $4million in
bribes to High Court Judges, Appeal Court Judges and some senior Supreme
Court Justices to remove Governor Ikpeazu whom he vowed to "teach a
lesson" for refusing to take his calls.
The bribe money was routed through the duo of Hon. Adamu Mohammed
Bulkachuwa, a former member of the House of Representative and husband of
the President of the Court of Appeal, Hon. Zainab Bulkachuwa and Justice
Ibrahim Auta, Chief Judge of the Federal High Court.
While Hon. Bulkachuwa allegedly shared $200,000.00 from the $4million to
"take care" of Appeal Court Judges, Justice Auta shared $200,000.00 to
Justice Okon Abang who delivered the High Court ruling sacking the Abia
Governor, a source close to Chief Arthur Eze told Pointblanknews.com.
Judicial sources told Pointblanknews.com that Pointblanknews.com expose
was not taken lightly by the Chief Justice of the Federation, Justice
Mahmud Mohammed who warned corrupt Judges of dire consequences.
Justice Mohammed, according to our sources had expressed anger over series
of bribery allegations leveled against Judges, vowing to work with the
National Judicial Council, NJC, to sack any Judge found to have
compromised the Judiciary.
"The CJN is not a happy man at this time. He saw that report on the
internet and immediately sent warnings to those involved. He is
particularly angry that at a time when the country is waging war against
corruption, some Judges are sabotaging the efforts," a senior Director at
the Supreme Court told Pointblanknews.com.
Pointblanknews.com gathered that corruption among Judges have become a
thing of worry for the Chief Justice who has come under intense pressure
from President Mohammadu Buhari who have accused the Judiciary of
colluding with politicians to derail the anti-Corruption fight.
Buhari had accused the Judiciary of slowing down his anti-corruption crusade.
However, in a rare judicial volte-face, the Justice Helen Ogunwumiju-led
five-man bench unanimously agreed in their judgment that Justice Abang
erroneously assumed jurisdiction to hear the motion and adjourned it till
a later date.
Justice Philomina Ekpe, who read the lead judgment, held that what Justice
Abang ought to have done in line with time-honoured doctrine of "stari
decisis" was to have transferred the motion to the Court of Appeal for
determination.
She also held that the Justice Abang wrongly interpreted the provisions of
Order 4(10) and (11) of the Court of Appeal rules when he held that the
said provisions were only applicable to an interlocutory ruling of the
lower court and when a final judgment in a suit had been delivered.
She also held that Justice Abang lacked jurisdictions to interpret the
provisions of the Court of Appeal being the rules of a superior court.
In her contribution, Justice Ogunwumiju, held that the trial judge
"deliberately stood the law on its head" by justifying his jurisdiction to
hear the motion when appeal has been entered.
The post How Bribery Scandal Saved Gov. Ikpeazu From Sack; CJN Angry With Judges appeared first on Pointblank News .