U.S. Ambassador Meets with Ghanaian Agri-business, Re-Affirms Commitment to Improving Food Security
B-BOVID is a Ghanaian business based in Pretsia, which promotes agricultural practices and ecological farming, and trains farmers on a variety of improved agricultural methods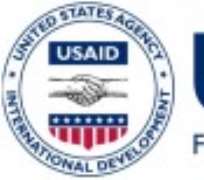 WASHINGTON D.C., United States of America, August 17, 2016/APO/ --
The U.S. Ambassador to Ghana, Robert P. Jackson, and the U.S. Agency for International Development (USAID) Ghana Mission Director, Andrew Karas, visited the social enterprise Building Business on Values Integrity and Dignity (B-BOVID) and its partner organization, Transforming Rural Agricultural Communities Through Organic Re-engineering (TRACTOR) on August 17, 2016 in Takoradi to re-affirm their support for helping farmers in rural communities to improve their incomes and enhance food security, while safeguarding the environment.
B-BOVID is a Ghanaian business based in Pretsia, which promotes agricultural practices and ecological farming, and trains farmers on a variety of improved agricultural methods. TRACTOR leads B-BOVID's community outreach and encourages smallholder farmers to adopt modern technology, promotes healthy lifestyles and nutrition, as well as educates rural communities on the impact of climate change and land degradation.
The U.S. government is proud to partner with local Ghanaian organizations like B-BOVID and TRACTOR
USAID works with B-BOVID and TRACTOR, through its Coastal Sustainable Landscapes Project, to increase knowledge in agroforestry, climate smart agriculture, and natural resource management to help farmers add value to their food production. In partnership with Ghana's Forestry Commission and Ministry of Food and Agriculture, the project works to achieve low greenhouse gas emissions, maintain and increase native and existing tree species, and engage farmers on sustainable landscape management and practices.
"The U.S. government is proud to partner with local Ghanaian organizations like B-BOVID and TRACTOR. Strong, successful agri-businesses and organizations like these ensure the sustainability of our investments in food security," said Ambassador Jackson.
The Coastal Sustainable Landscape Project is part of the U.S. government's Feed the Future Initiative, which works to improve the livelihoods of farmers in rural communities around the world and to abolish extreme poverty, undernutrition and hunger. In 2015, thanks to Feed the Future, more than 100,000 farmers increased their incomes in Ghana.