TechNews: Airtel Ghana Commissions ICT Centre For Somnyamekodru Primary School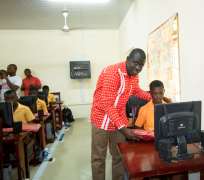 Airtel Ghana, Best CSR Company for Education and Community Relations has commissioned and handed over a solar powered ICT centre for Somnyamekodru Primary School in the Central Region, through its flagship community investment programme – Airtel Touching Lives.
The Centre comprises a state of the art fully stocked computer laboratory connected to Airtel's superior internet service.
Speaking at the commissioning, Samuel Gyimah, National Distribution Manager at Airtel Ghana said, "Over the years we have invested heavily in building and refurbishing infrastructure such as this ICT centre, building capacity of teachers and providing teaching and learning materials to boost education in several schools across the country. As a socially responsible company, we believe in investing and empowering young people to fully realise their potentials which informs our CSR approach in education, health, community empowerment and sports.
He continued, "To ensure that this facility's operational costs are reduced, we invested in making it energy efficient and self-reliant through the installation of solar panels to ensure the facility is operational at all times during the day. We have no doubt in our minds that this Centre will contribute greatly to equipping and empowering the young people in this school and community to realise their potential".
Airtel Ghana committed to fund the project when Mr. Ignitius Bugyei, ICT teacher of the school solicited for the ChangeMaker Company's support for the school through the Airtel Touching Lives initiative. The Centre was therefore completely refurbished in line with the company's commitment to supporting education and empowering young people to fully realise their potential.
The telecom company in addition distributed bags and stationery to some 300 pupils present at the ceremony.
Hon. Bossman Osei Hyiaman, District Chief Executive of Twifo Atti-Mokwa District Assembly in his address remarked, "The benefits of this project to the pupils and the community as whole are immeasurable. Airtel Ghana has through this investment created the opportunity that will provide access to the best ICT education for pupils in this school and its environs. We are grateful and excited to have this facility which will enable our children to catch up with the ever- changing world led by ICT. On behalf of the entire community, I extend my profound gratitude to Airtel Ghana for the commitment they have shown in sponsoring this facility".
The Airtel Touching Lives initiative which comes under the Company's Corporate Social Responsibility (CSR) drive, is a television programme aimed at identifying people who are making exceptional impact in their communities and empowering them to expand and scale up their effort for the greater good of their communities.
The programme, the very first to be televised, recounts the stories of people who have been nominated and rewarded for the impact they are making in their communities.
About Bharti Airtel
Bharti Airtel Limited is a leading global telecommunications company with operations in 20 countries across Asia and Africa. Headquartered in New Delhi, India, the company ranks amongst the top 3 mobile service providers globally in terms of subscribers. In India, the company's product offerings include 2G, 3G and 4G wireless services, mobile commerce, fixed line services, high speed DSL broadband, IPTV, DTH, enterprise services including national & international long distance services to carriers. In the rest of the geographies, it offers 2G, 3G and 4G wireless services and mobile commerce. Bharti Airtel had over 353 million customers across its operations at the end of January 2016. To know more please visit, www.airtel.com
About Airtel in Africa
Airtel is driven by the vision of providing affordable and innovative mobile services to all. Airtel has 17 operations in Africa: Burkina Faso, Chad, Democratic Republic of the Congo, and Republic of the Congo, Gabon, Ghana, Kenya, Malawi, Madagascar, Niger, Nigeria, Rwanda, Seychelles, Sierra Leone, Tanzania, Uganda and Zambia. Airtel International is a Bharti Airtel company. For more information, please visit www.airtel.com , or 'like' the Airtel Ghana Facebook page via www.facebook.com/airtelgh or follow us on Twitter via the handle @airtelghana.