TWO WEEK IC MEDIA BASIC PRESENTATION TRAINING
.............A UNIQUE TRAINING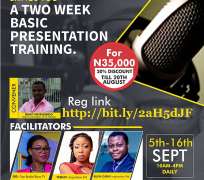 The chance to achieve that dream of becoming a presenter is here as IC media Academy brings you a two week training on Basic Presentation. It's time to learn the skills needed to be on radio or TV. There are many opportunities abound in the broadcast industry and you need to secure your place (that's if being an OAP is your passion).
With seasoned Radio and TV presenters as Facilitators to share their wealth of knowledge and experience with you, including mentorship, you are sure in for the best time ever.
There are mouthwatering benefits, one week internship in major Radio and TV houses and the best two participants will get to co-host the red carpet an awards show and even present an awards to a recipient.
Click on the link to register- http://bit.ly/2aH5dJF
For Enquiries call Michael- 08186156356
Email- [email protected]
There's a 20% discount on registrations before 20th of this month.