Buhari Should Restructure Nigeria Now—Bishop Umunna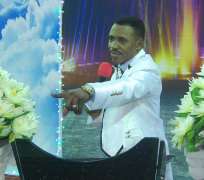 The Presiding Bishop of Bible Life Church Cathedral (BLCC) and award-winning televangelist, Bishop (Prof) Leonard Umunna recently called on President Muhammadu Buhari to restructure Nigeria, reshuffle his cabinet and constitute an economic team to tackle the present-day economic hardship of the country.
Speaking to journalists in his well-furnished office in Lagos, said Nigeria lost its leadership after the civil war and the overdependence on oil and gas drew the country backward. Agriculture was the mainstay economy of Nigeria but sectional and biased leadership by voracious leaders created this unbearable poverty to Nigerians.
He stated that every Nigeria tribe is marginalized and Buhari should think one Nigeria not using political appointment to favour one particular tribe of this country. God told me that former President Goodluck Jonathan was sent to bring peace to the country which he did.
To President Buhari, God has not told me if Nigeria would divide under President Buhari but restructuring the economy through highly trained economic experts would make his leadership acceptable to Nigerians. There is no doubt that the economy is in nose-dive and the only way out to reshuffle his cabinet and appoint rightful thinking minds to move the country forward.
Speaking further, Bishop Umunna also advised President Buhari to listen to the cries of Nigerians. God has not abandoned us but our political leaders must not neglect their followers. Our votes should give us the kind of leadership we yearned for not on the opposite side.