Boko Haram new video shows abducted Chibok girls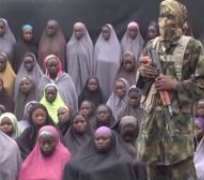 FG says it is in contact with Boko Haram
The Boko Haram   terror group on Sunday released a video which   purports to show some of the schoolgirls abducted by its operatives from Government Secondary School, Chibok,  in April of 2014. Of the 276 kidnapped teenagers, a few have managed to escape Boko Haram, but 215 are still missing two years later.
In the video, which was purportedly released by Boko Haram factional leader, Abubakar Shekau, one of the girls, Maida Yakubu, who spoke in both Hausa and her native language,  in the video asked parents to "be patient and beg the government to release their people, so that we will also be released."
She also asked their parents to prevail on the federal government to release the sect members held in different detention centres across the country in exchange for the girls.
"We are not happy living here," says the girl on camera. "I'm begging our parents to meet the government to release their people so that we can be released."
The video shows about 50 girls in headscarves and claims they will be released to their families in exchange for jailed Boko Haram fighters.
A masked a Boko Haram fighter, holding an assault rifle and his head covered by a turban, says in the video, which was posted on YouTube, that another 40 of the girls have been married to Boko Haram men, presumably by force.
Many of the abducted teens were Christians, and Boko Haram mandates conversion to Islam as part of its quest for Islamic rule in Nigeria. The name "Boko Haram" translates to "Western education is forbidden."
"They should know that their children are still in our hands," the Boko Haram sokesman said.
The masked fighter delivers his demands standing in front of dozens of young women.
"The Nigerian government has issued a statement saying they are on top of the situation. What they mean by that is they are in touch with people purported to be behind that video," said Al Jazeera's Ahmed Idris, reporting from Lagos.
"The government … [is] being extra careful to be double sure that they are talking to the right persons and they are also taking the time and care to ensure that these girls are not harmed," Idris said.
However, it is still "not clear who the Nigerian government is talking to", he added.
Earlier this month, the Islamic State of Iraq and the Levant (ISIL, also known as ISIS) named Abu Musab al-Barnawi as  Boko Haram's new leader , replacing Shekau.
Boko Haram has been waging a campaign against the Nigerian government for several years, battling what it calls Western influence.
"The speaker said military air strikes had killed many of the kidnapped Chibok schoolgirls, and he asked the parents of these girls to press the government to release the groups' fighters from prisons across Nigeria," Idris said.
"The speaker also said that 40 of the schoolgirls were married, some were killed by air strikes and there were several injuries. He also used the video opportunity to assure his comrades in prison and urged them to be resilient and assured them they would soon be freed," he said.
Maida's mother, Esther, is one of several parents of Chibok girls who recently published open letters to their daughters, detailing the pain they feel at their children's absence and their hopes for the future. Release our men and get Chibok girls — Shekau
The video message read:  "We thank God for giving us the opportunity to send this message to the parents of these girls (pointing at the girls sitting behind him). "It pleased God to let us have these girls in our captivity for over two years now. Our first message is to the parents of the girls to let them know that their daughters are still with us, some of them.
"I also want to tell them to ask the Nigerian government to release our brethren, especially those in Maiduguri, Lagos, Abuja and other places across Nigeria. They should be released immediately. Video Player 00:0011:25 "You all knew that we had the girls, but God never allowed you to know their location and you will never know by God's grace. You keep lying in your media that you will rescue them, they have been with us for over two years, yet you can't even know where they are. You have just been lying about these girls, people should know that.
"Also, for the over two years that we have been with these girls, about 40 of them are married, some are dead as a result of airstrike by infidels. We will show you a video of how your own aircraft dropped a bomb that killed some of these girls. Some of the girls have suffered fractures and other forms of injuries as a result of the air strikes.
"As you can see, these are the girls, all we want is for you to release our brethren otherwise you will never get these girls God willing. This in short is our message to the Federal Government and the parents of the Chibok Girls.
"As long as the government does not release our people, we will also never release these girls, that is our message. I specially informed our people in captivity in Lagos that they should be patient and continue with their prayers, God will take us to where no one expects and we will rescue them. All those in Lagos, Maiduguri and other southern parts of the country. Keep praying, very soon, we will rescue you.
"Let me conclude this message by saying that many people have been coming to us lying that they were sent by the Nigerian government to get the girls released. Let the government and the whole world know that we have not sent anyone to negotiate with the government on our behalf over these girls.  We have dealt with you in the past and you know our recommended negotiators. If you need to, you should talk to them. We don't use our own people to negotiate with you, we use your own people such as journalists to talk with you. We have not sent any other persons. You know that we prefer to use journalists known to you. "Let me say again, release our people and we release your girls, otherwise, they will never be released. If you think you have the power to come and rescue them, go ahead and try. "President Buhari, your Army has been lying to you that they have finished us, let them try and see if they can rescue these girls alive.
The Federal Government in reaction said on Sunday that  it was doing everything possible to secure the release of the girls and put an end to the horrible saga of their abduction, while the Defence Headquarters, DHQ, said  it was examining the latest video.
According to the  Information and Culture Minister, Alhaji Lai Mohammed,  in a statement signed by his media assistant, Segun Adeyemi, in Abuja, the government was in touch with those purportedly behind the video. "We are on top of the situation but we are being extremely careful because the situation has been compounded by the split in the leadership of Boko Haram.
"We are also being guided by the need to ensure the safety of the girls.  Since this is not the first time we have been contacted over the issue, we want to be doubly sure that those we are in touch with are those who they claim to be," he said.
The kidnapping has become a hot political issue in Nigeria, with the government and military criticised for their handling of the incident and their failure to rescue any of the girls.
About 2,000 girls and boys have been abducted by Boko Haram since 2014, with many used as sex slaves, fighters, and even suicide bombers, according to Amnesty International, the London-based human rights organisation.
In recent months, Boko Haram has increasingly used suicide and bomb attacks as the Nigerian military pushes the group out of territories they once controlled.
President Muhammadu Buhari has declared Boko Haram "technically" defeated, and said success in the campaign would be measured on the return of the Chibok girls and other abductees.
"There have been a lot of incursions from reports that we have seen, of our military making incursions successfully into areas hitherto held by the insurgents," Mike Omeri, former head of the government's Nigerian Information Centre, told Al Jazeera.
"In addition to that, a number of other strategies that may not necessarily be on the pages of newspapers, have been undertaken."