Govts must give Muslims their due in Nigeria – Sultan of Sokoto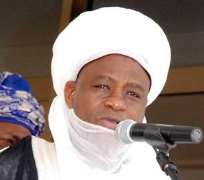 Sultan of Sokoto and President-General, Nigerian Supreme Council for Islamic Affairs, Alhaji Muhammadu Abubakar Sa'ad, on Saturday, called on governments at all levels in the country treat Muslims fairly, even as he urged Muslims to contribute to the peace of the nation.
He made the call at the opening ceremony of the council's General Assembly/Executive National Council meeting held in Benin, Edo State.
He said, 'Government at all levels should treat Muslims fairly. What is due to Muslims must be given to Muslims. When we are given what we should have, it is not a favour to us, it is our right.'
He explained that Muslims were desirous of a peaceful and stable Nigeria as desired by Allah who put Nigeria together, saying 'as Muslims, we want to treat people equally, fairly and justly.'
Stressing that Nigeria is a multi-religious state, the Sultan said: 'we must allow the various religions to go on, but we must not trample on each other's right, which means I must be allowed to practise my religion the way I believe as ordered me by the Holy Quran and nothing else.
'So when we get this done, the issue of hijab and so many other things affecting Islam, I believe are our rights, not privileges, unless the constitution is changed.'
While condemning bad elements among Muslims, the Sultan said those who commited crimes should be treated as criminals or terrorists, but not tagged as Muslims.
An Islamic scholar, Professor Ibrahim Sulaiman, who spoke on 'Islamic recipe for peace in Nigeria,'  attributed Boko Haram insurgency to the drying up of Lake Chad with attendant loss of sustenance of livelihood of 15 million Nigerians, occasioning migration of people and consequent crises in different parts of Northern Nigeria.
Declaring the meeting open, Edo State governor, Comrade Adams Oshiomhole, said teaching of religion in schools should be re-emphasised, adding that 'one way to achieve peace is to create a foundation for a fair and just society.' - Tribune.