FRSC to introduce speed limiters in October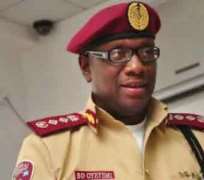 In its bid to reduce the rate of road crashes in Nigeria, the Federal Road Safety Corps (FRSC) on Wednesday, said the enforcement of speed limit devices on commercial vehicles operating in the country will commence nationwide on October 1, 2016.
The initiative, which had received criticisms until it was recently approved by President Muhammadu Buhari, the National Assembly and other stakeholders "would be total and non-compromising," FRSC Corps Marshal, Boboye Oyeyemi said at a meeting in Abuja.
The new date would end the controversy surrounding the take-off, having been shifted on several ocassions Oyeyemi said.
According to him, the policy on the use of speed limiters was carefully enunciated based on expert advice of the Standards Organisation of Nigeria (SON); the National Automotive Design and Development Council (NADDC) as well as other stakeholders as a way of addressing the challenges of speed-induced road carnages in the country.
The Chairman of the Senate Committee on Intergovernmental Affairs, which has oversight powers over the FRSC, Senator Tijani Kaura said the National Assembly would support the implementation and other polices that could enhance safety and security of lives of Nigerians.
The Chairman of the House Committee on FRSC, Abubakar Ahmed Yunusa said with its effective implementation, the rate of crashes would reduce.
A transport researcher at Linköping University, Sweden, Adeyemi Adedokun, who had earlier criticised the policy was of the view that it was necessary if it would eventually curb over-speeding in Nigeria.
"In Sweden for example, as good and safe as the roads are, the maximum allowed speed is 110-120km/hr and this is enforced automatically," he stated.
According to him, there is the need for some kind of speed enforcement and education.
However, he said there must be a long-term plan, a transparent implementation and impact assessment studies scheduled for evaluation.
According to data made available by the FRSC, in 2013, 6,450 Nigerians lost their lives to road accidents. This number includes 4,552 men, 1,398 women, 299 boys and 201 girls.
The World Health Organisation (WHO) ranked Nigeria worst in the rate of road accidents among 193 countries of the world, adjudging the country one of the most dangerous countries in Africa with 33.7 deaths per 100,000 population every year.