Why we sold dollar at N197 to Muslim pilgrims: CBN governor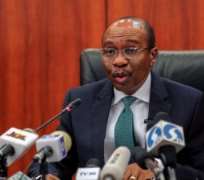 The Central Bank of Nigeria has said there was no concessionary foreign exchange rate for the 2016 pilgrimage exercise.
Speaking to news men in Abuja on Tuesday, August 9, 2016, the\
The Governor of the bank, Mr Godwin Emefiele, said that that there was no preferential exchange rate of any sort to intending pilgrims.
Emefiele, who spoke in Abuja on Tuesday, said that laid down procedure was followed in arriving at the exchange rate for the pilgrims.
According to him, "What is obtainable is that every year, prior to the commencement of the pilgrimage, the commission (both Christian and Muslims) approach the CBN to agree on the exchange rate for the personal travel allowance (PTA) for that particular year, which, in this case is between $750 and $1,000 per pilgrim." .
The governor further explained that the agreement to sell foreign exchange to the pilgrims at the rate of N197 to the Dollar was reached as far back as April 2016 at the prevailing rate then, adding that this particular agreement is applicable to both intending Christian and Muslim pilgrims.
He explained that the pilgrims went ahead to make commitment by way of advanced payment through their various states pilgrims' welfare boards for onward transmission to National Hajj Commission or Christian Pilgrims Commission as the case may be.
"In this particular case, the market rate prevailed. Hence, with the commencement of the flexible exchange rate policy, market determined rates would continue to serve as the bases for foreign exchange for pilgrimage or any form of PTA in the country," he noted.
While likening the request for PTA for pilgrimage of tourism as a valid transaction, Mr Emefiele asserted that the CBN as a responsible organization could not renege on agreements or contracts entered into for whatever business transactions.
He therefore appealed to members of the public to exercise restraint in their comments in order not to cause unnecessary and avoidable disaffection among the public.