Budget padding: House of Reps, hub of systemic corruption – Jibrin insists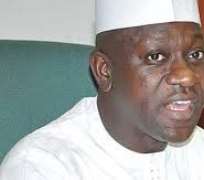 The former Chairman of the House of Representatives Committee on Appropriations, Abdulmumin Jibrin, on Tuesday described the House as hub of systemic corruption.
In a statement he personally signed, Jibrin gave further insight into why he was removed as appropriation committee chairman.
He said, 'Since the corrupt Speaker Yakubu Dogara made the public comment that padding is not an offense, the question on the lips of Nigerians is why then did the same Speaker said he 'sacked' me over padding allegations?
'I have said it repeatedly and wish to restate that I did nothing wrong and I committed no offense. I did not abuse my office nor corruptly enrich myself in the five years I have been in the House.
'The only reason why they wanted me out is my independent-mindedness, resistance to corruption and my refusal to 'play ball' on the gross abuse of office they institutionalized in the House. They simply wanted to have someone that can do their corrupt bidding. Now that I have exposed the fact that Speaker Dogara and the three others are the padders, padding is no longer an offence, Shame! Shame!! and shame!!!
'As it stands today, these corrupt elements have infiltrated the House, making the institution a hub of systemic corruption. I repeat, there is massive individual and institutional corruption in the House of Representatives. And all Nigerians have a responsibility to avail themselves of this rare opportunity to flush out corruption in the House.
'I have pledged my continuous support and assistance to the security and anti-corruption agencies. Let me also state that contrary to some myopic opinion that it would affect the institution of the House, it will rather free the institution of the grip of these corrupt vested interests, restore its integrity and shape it to become a pride to Nigerians home and abroad. - The Nation.
Budget padding: House of Reps, hub of systemic corruption - Jibrin insists