#WBW2016: H.E. Mrs. Toyin Saraki Speaks on Nutrition, Breastfeeding at the CS-SUNN Stakeholders' Meeting in Abuja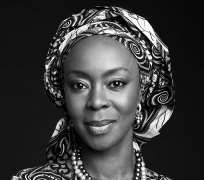 The wife of the Senate President, and the President and Founder of Wellbeing Foundation Africa, Her Excellency Mrs. Toyin Saraki, on August 3rd, 2016 Chaired a high level nutrition stakeholders meeting to commemorate World Breastfeeding Week 2016 with the theme "Breastfeeding a Key to Sustainable Development."
The event which was organized by Civil Society Scaling-up Nutrition in Nigeria (CS-SUNN); a non-profit coalition, had in attendance stakeholders from various civil society groups, government based and non-governmental based organizations. The CS-SUNN is made up of organizations with a shared vision to transform Nigeria into a country where every citizen has food and its nutrition secured.
Her Excellency, while giving her keynote speech commended the CS-SUNN for their unending effort to scale up nutrition in Nigeria while she stated how nutrition has been a central part of the work in reproductive, maternal, newborn, child and adolescent health (RMNCAH) at the Wellbeing Foundation Africa (WBFA).
While speaking on the importance and benefits of exclusive breastfeeding, Her Excellency stated practical advantages for both mother and child.
"I wish to stress that the scientific evidence shows that Early and Exclusive Breast Feeding confers a protective effect on the survival of infants, while it also decreases the risk for many early-life diseases that threatens the growth and wellbeing of an infant. Also, breastfeeding confers some protection to women against breast and ovarian cancer, alongside the fact that breastfeeding aids maternal-child bonding. Therefore, given that development essentially thrives on the advancement of women and children, there is an urgent imperative to invest in exclusive breastfeeding in Nigeria, in order to yield a healthier population that will sustain the country economically."
She also went further to list the ten steps for mothers and health providers that will cultivate a more successful breastfeeding culture. She also gave out health tips and advised breastfeeding mothers to maintain a high level of hygienic behavior, including even taking adequate care of their underwear.
As she rounded up her speech, Her Excellency, Mrs. Toyin Saraki gave a call to action: "Protecting, promoting and supporting breastfeeding deserves renewed investments and increased prioritizing in order to meet the Sustainable Development Goals by 2030. Midwives need to engage and commit to playing their part in improving nutrition for mothers and their babies in order to also meet the Sustainable Development Goals."
She also pledged to promote the placement of midwives - a programmatic priority of her flagship philanthropic organization, The Wellbeing Foundation Africa - stating:
"As a Global Goodwill Ambassador to the International Confederation of Midwives, I have pledged to promote the placement of midwives, and the midwifery services framework, at the heart of reproductive maternal newborn child and adolescent health, to proffer and drive solutions to our most pressing challenges."
During this first week of August, the world has marked World Breastfeeding Week 2016 with celebrations of various kinds going on in different countries all over the world, and these celebrations will continue till the 7th of August, 2016.