Growing Economies Using Land In Africa: Local Vs. Foreign Land Investments Compared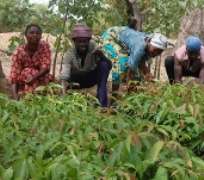 Experts argue that investment in land is the safest means of saving one's money. Land investment is referred to as a long term investment and with land prices on the rise in many parts of the world, it is said to be the safest and smartest way of investing ones money. Large development companies, wealthy individuals and rich farmers have significantly contributed to the figures of those investing in land, for example, Indian agricultural projects in Ethiopia are worth US$5 billion on 600 000 hectares of land.
This article looks at the concept of Foreign Investments and local investments in land in an effort to analyse which factors in both forms of investment needs to be addressed in terms of community development. It seeks to analyse the impact of land investments both foreign and local not only economically but also socially in terms of community development.
Land is a crucial resource and has continued to be a resource that provides income for those who own it or have access to it. However, most people in Africa have not learned how to leverage off their land and make benefits from it, perhaps due to lack of access to land or education in agricultural land use, or both.
"As global demands for food and biofuel escalate, foreign investors have shown a keen interest in African land. The frantic pace at which these large-scale land acquisition investments are occurring have raised questions about the underlying motives, benefits and long-term impacts of these investments on host countries.
Land investments have been highly encouraged in many parts of the continent in an effort to boost economic growth. With the creation of schemes and various plans, along with major help from globalization, which is defined as a process of interaction and integration among the people, companies, and governments of different nations, a process driven by international trade and investment and aided by information technology, investment climates in countries with vast underused land have been amplified. Such processes have significantly lured and increased the amount of investors in a country, both local and foreign. Whether investments in land follow a local or foreign nature, economically, these investments are a big plus and provide growth potential for nations.
Sodano (2012) argues that factors such as capitalism, privatization and commercialization which are all birthed from the popular concept known as neo-liberalism have led to the boosting of investment efforts in the agricultural sector, more particularly in the context of food. She states "Food has become nothing more than a commodity, its trade has become a way of wealth accumulation and the market, instead of self-production in peasant societies, has become its main way of procurement for urban dwellers and the workforce required by industrialization. The "domestication" of food habits and trade has been an important leverage for capital accumulation. As a matter of fact, as the literature on food regimes has clarified, different stages of capitalistic development have required different features of food governance."
The neoliberal argument is pursued by Uadiale (2014) in his argument that the privatization and transformation of natural resources such as water, land, fauna and forests lies on the neoliberal model of market based development. The model in question is assumed to lead to maximization of profits, the modernization of agriculture and an increase in land-based exports. This neoliberal model has not received credit from mostly anthropologists who argue that the neoliberal model does not account for community welfare; rather it has escalated an increase in the land control, securing of resources by the African elites and external forces.
In various parts of Africa agricultural investments have been used as tool to bring about economic growth, with promises of community development and poverty alleviation. Some of these promises however have not yielded the expected results and have instead disadvantaged the rural poor even further. Examples can be seen from the foreign investments in Cameroon by the New York-based agricultural group, Herakles Farms. This particular investment project does not enjoy full community support for a proposed 73 000 hectare palm-oil project. Growing crops of biofuel is a major inducement for African agricultural land purchase. The Iowa-based energy group, AgriSol Energy, has one such project in Tanzania with the Tanzanian cooperation of government and its completion requires the potential displacement of 162 000 Burundian refugees who are working the land as subsistence farmers.
Foreign vs. Local Investments
This brings us to the topic on Foreign Direct Investment (FDI), which is described as;
"Investment from one country into another (normally by companies rather than governments) that involves establishing operations or acquiring tangible assets, including stakes in other businesses."
Globalization has encouraged FDI through the notion of free trade and there is no question that FDIs have been increasing over the years. Back to land investments. African countries have experienced and continue to facilitate the environment for foreign investors in an effort to boost economic growth. Foreign direct investments are here to stay and others argue that "African governments should use the proceeds from land leased to foreign investors to subsidize the cost to local farmers of modernizing their farming methods, or to build infrastructure and improve production."
In Africa, the FDI growth was balanced between the two halves of the continent: capital investment into North Africa more than doubled from $10bn to $26bn while sub-Saharan Africa saw its investment levels rise from $42bn to $61bn. Foreign direct investments in land particularly, according to (GIZ 2009) were viewed as a solution to bridging the gap of decades of underinvestment in developing countries' agricultural sector, however they were also seen to threaten host countries' food security and increase the vulnerability of the rural population.
The real concern comes in when we begin to think of whether these foreign investments, particularly in land have yielded the expected results that should have led to economic growth, improved living standards and with all sorts of frameworks that have been implemented, community development too. Furthermore with such high levels of foreign investments in land, where does that leave local, normally small scale investors? Have governments focused too much on one form on investment and given little or no attention to the local investors, who by the way strive to make an impact locally.
Pressure felt from foreign investors in the agricultural sector.
Tim Williams, Director of IWMI in Africa during his presentation at the 5th Africa Water Week in Dakar, Senegal, stated that "Foreign direct investors are coming in with new technology and capital while small-scale producers are using the same old techniques".
That is just one of the disadvantages of this much sought after method of growth, it is also said that local land users are often absent from land deal discussions until after contracts were signed, if they were involved at all. Other than that, it is found that consultations with local land users in these land deals are either non-existent or really low in numbers.
Economically, let's consider growth potential for local small scale farmers. Let's take South Africa for example, where agriculture has a central role to play in building a strong economy and, in the process, reducing inequalities by increasing incomes and employment opportunities for the poor, while nurturing our inheritance of natural resources.
The reality faced by small scale black farmers is recognised. In general, most black farmers, whether small scale or not, have limited access to land and capital, and have received inadequate or inappropriate research and extension support. This has resulted in chronically low standards of living and reliance to a greater or lesser extent on subsistence production. To achieve the Government's objectives of black empowerment and poverty alleviation, policy must address problems faced by black farmers in general and resource-poor farmers in particular. We cannot dispute the fact that government in this particular case needs to address these issues though proper governance and policy implementation. The potential to make a grave impact in the agricultural sector is not lacking but support is in one way or another.
According to CNBC Africa, there are four major hurdles that limit the success of small-scale farming in Africa, namely: 1) climate, 2) technology and education, 3) financing and 4) policy and infrastructure.
'The role of the Government in regulating the market and determining agricultural product prices has been greatly reduced, which clearly enhances the competitiveness and efficiency of the sector. However, failures still occur in the ways in which some markets operate, which affect small scale farmers in particular, and their access to production requirements and credit as well as to markets for their produce.'
Sustainability
Finally, considering countries need both local and foreign investors, moving forward country governments should strive to ensure local investors are protected, their efforts are supported and policies in place yield sustainable results from both types of investments. Sustainable growth in simple terms is defined as "Growth that it is possible to sustain or continue without causing economic problems economic growth that it is possible to sustain without causing environmental problems".
Conclusion
In all of the turmoil and economic pressure felt globally, it is crucial that states strategically implement policies that will result in their growth and survival, particularly in the context of investment. However, foreign or foreign direct investments are not and should not be the only area governments need to pay attention to. We have a great example of successful development projects such as the one of Kenya, where the government's efforts at boosting the horticultural sector led to the booming land investments, and the empowerment of local investors and the overall growth of the economy.
'The Kenyan horticultural industry shows what can be achieved. Horticultural products have accounted for two-thirds of all growth in agricultural exports and recently surpassed coffee to become the second largest merchandise export, after tea. Kenya is the second largest horticultural exporter in Sub-Saharan Africa (after South Africa), the second largest developing country exporter of flowers in the world (after Colombia), and the second largest developing country supplier of vegetables to the European Union (after Morocco). Approximately 135,000 people are now directly employed in the sector. Most are poor Kenyans, for whom the industry has made a real difference in their lives.
It would appear, well thought out policies, in the interest of local people results in not only economic growth but an improvement in living standards, improvement in skills and knowledge and much more. Although a major source of income and crucial to a country, the policies that guide foreign direct investment should be such that they do not completely harm or suffocate the efforts of local investors. Local land investments possess the potential to grow economies, empower communities and improve living standards.
https://www.google.co.za/url?sa=t&rct=j&q=&esrc=s&source=web&cd=1&cad=rja&uact=8&ved=0ahUKEwiZ0MWzw5jOAhUrAsAKHUvTBkkQFggwMAA&url=http%3A%2F%2Frethinkrural.raydientplaces.com%2Fblog%2Fwhy-land-is-a-safe-investment&usg=AFQjCNFcV-X5jxDtL3IUATwv96xicXbUpg&bvm=bv.128617741,d.d2s
http://siteresources.worldbank.org/DEC/Resources/Rising-Global-Interest-in-Farmland.pdf
http://www.economywatch.com/investment/land-investment.html
https://wle.cgiar.org/thrive/2014/07/22/can-foreign-direct-investment-benefit-smallholders-and-investors
https://www.google.co.za/url?sa=t&rct=j&q=&esrc=s&source=web&cd=3&cad=rja&uact=8&ved=0ahUKEwjMjeWVx5jOAhUEBsAKHXkwCHoQFggyMAI&url=http%3A%2F%2Fwww.globalization101.org%2Fwhat-is-globalization%2F&usg=AFQjCNGbwKsjFhPD1LQywe6NBF9VEzj-yQ&bvm=bv.128617741,d.d2s
Valeria Sodano (2012). Food Policy Beyond Neo-Liberalism, Sociological Landscape - Theories, Realities and Trends, Dr. Dennis Erasga (Ed.), ISBN: 978-953-51-0460-5, InTech, Available from: http://www.intechopen.com/books/sociological-landscape-theories-realities-and-trends/food-policy-beyondneo-liberalism-looking-for-a-new-paradigm-through-the-lens-of-economic-sociology-
http://corruptionwatchconnected.org/show/stop-africa-land-grabs-johannesburg-gauteng/file/604
http://lexicon.ft.com/Term?term=foreign-direct-investment
http://www.howwemadeitinafrica.com/how-foreign-land-deals-can-actually-benefit-african-farmers/
http://www.ft.com/cms/s/0/79ee41b6-fd84-11e4-b824-00144feabdc0.html#axzz4FnRY7013
https://www.giz.de/fachexpertise/downloads/Fachexpertise/giz2010-en-foreign-direct-investment-dc.pdf
http://www.nda.agric.za/docs/Policy/policy98.htm
http://www.nda.agric.za/docs/Policy/policy98.htm
http://www.cnbcafrica.com/insights/special-reports/world-economic-forum/wef-africa-2016/2016/05/12/holding-back-africa-farmers/
http://www.nda.agric.za/docs/Policy/policy98.htm
http://lexicon.ft.com/Term?term=sustainable-growth
https://www.google.co.za/url?sa=t&rct=j&q=&esrc=s&source=web&cd=1&cad=rja&uact=8&ved=0ahUKEwiL8ez48PzNAhWJL8AKHbHjDVMQFggaMAA&url=http%3A%2F%2Finfo.worldbank.org%2Fetools%2Fdocs%2Freducingpoverty%2Fcase%2F120%2Ffullcase%2FKenya%2520Horticulture%2520Full%2520Case.pdf&usg=AFQjCNH-9049EuuTRooM4z5aGk9yl9Gwow&bvm=bv.127178174,d.d2s
Disclaimer:

"The views/contents expressed in this article are the sole responsibility of

Hermine Ilunga Coordinator At Gravitazz Continental Initiative

and do not necessarily reflect those of The Nigerian Voice. The Nigerian Voice will not be responsible or liable for any inaccurate or incorrect statements contained in this article."