IMO DEPUTY GOVERNOR HAILS GOV. OKOROCHA ON BACK TO FARM POLICY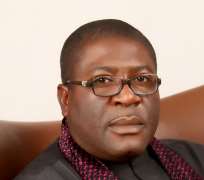 The Deputy Governor of Imo State, Prince Eze Madumere has applauded Governor Okorocha for a well thought out policy thrust with a view to increasing food security and living standard of the people.
Prince Madumere's support is contained in a press release signed by his Special Assistant on Media, Uche Onwuchekwa.
The number citizen according to the release decried the danger the present situation of sole dependence on crude oil presents for the good people of Imo State and Nigeria at large.
He also decried the lack of food sufficiency in the State and the South East in general, regretting eighty percent dependence of the States on imported food from either other States of the Federation or foreign staple food thereby causing capital flight and natural devaluation of Naira.
He called on Imo State civil servant, rather than vilify Governor Okorocha, to appreciate him as a man of vision especially with incentives of Agricultural loans and other policies geared towards encouraging agriculture still without a salary cut.
He warned that issues that boarder on development should not be subjects of politicking and negative propaganda but should be guided to safe delivery. He urged Imo civil servants to be patriotic enough to join hands to build Imo State of collective dream.
He therefore called on the traditional rulers to drive home the importance of back-to-farm policy and ensure that people are mobilized towards achieving a diversified Imo economy especially in those areas they have a comparative advantage.
He added that most of the produce are exportable if properly packaged, this he said Imo State government is ready to partner with the people and private sector to ensure that it is achieved. He reminded them of the need to be prepared to take advantage of the ongoing upgrade of Sam Mbakwe Airport to an International Cargo Airport.
He assured them of Owelle Rochas Okorocha's readiness to ensure that farming is made attractive and profitable. He said that most of the countries in Europe rely majorly on Agribusiness to ensure food security, and wondered why yet to be developed States like Imo blessed with fertile soil should not consider agriculture a priority.
Uche Onwuchekwa
Special Assistant to the Deputy Governor on Media